When you shop online you can feel like you are getting much better pricing than what you can get by walking down to your local retailer.
What you may not realize is that cashback rebate sites like ExtraBux allow you to get a rebate on allmost all of the purchases you make online.
How Does ExtraBux Work?
Love shopping online? Here is an opportunity that allows you to earn while you shop. Extrabux is a great online shopping site that allows you to get cashback after you shop.
Extrabux has partnered with over 5,000 retailers. When you use the affiliate link on their website to visit a site and make a purchase,  Extrabux earns you commissions. Membership is free and anyone can join Extrabux. Here, you get to earn money back on the purchases you make via the site.
Is Extrabux Legit?
Extrabux has been around for quite some time and has been in the news on ABC's Good Morning America as well as Daily News. Both have given positive feedback on the site's popularity and progress.
Extrabux is not a scam and is a legitimate site which offers the opportunity to earn rewards and is among one of the best cashback sites out there offering quite high cashback rates when compared with other options in the market.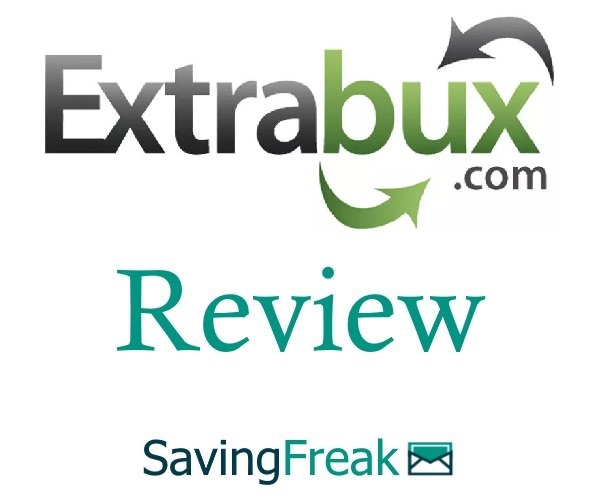 How You Can Join?
Anyone can join Extrabux through their simple registration process and the site is free to join. To join Extrabux, you need to:
Signup: The sign up process is very simple and you need to enter your email ID and select a password.
Search for a Store: By using the search feature in Extrabux, you can search for specific products you want in particular stores. You have over 5,000+ stores that you can choose from.
Start Shopping: You can choose the store you want, the product/ service and just buy it. You can either buy it on the website directly and get discounts or you can choose coupons to get discounts at specific stores.
Pay for the Purchases: The next step is to pay for the things you buy on the site.
Claim Your Cashback: When you make your first cashback purchase, you will earn a $5 bonus for signing up with Extrabux. It will take around 1-7 days for the cashback to reflect in your Extrabux account. In case it is more than 7 days and your cashback has not been posted in your account, then you can contact Extrabucks.
The only thing you have to do is shop through Extrabux and earn up to 30% cashback. Extrabux also offers:
Online Coupons: These are special discounts that are offered by retailers to shoppers buying products online. You can get discounts of up to 25% from your favorite stores.
Free Shipping: While online shopping is very convenient, usually, you need to pay the shipping and delivery charges. Extrabux looks for offers with free shipping and you can buy products from your favorite shops without having to pay for the shipping.
Product Deals: If you're on the lookout for products at their lowest prices, then Extrabux is the right shopping site for you. It searches for the products that are available at the lowest price.
You also have the option of adding the Extrabux extension to Chrome, which allows you to shop and get cashbacks without visiting the Extrabux website at all.
How Do I Get Paid?
You can earn up to 30% of your purchases as cashback. However, at first, you need to make one purchase and accumulate at least $10 in cashbacks before you can request for a payout. To request your payment, you must first select the payment method and then log in to your Extrabux account and click on the "Request Payment" button.
Extrabux then pays you via check, credit card transfer or PayPal. Extrabux also offers you the option to request Amazon gift cards or you can also donate your cashback to a charity.
Extrabux states that you will receive your payments within 5 working days. The Amazon gift cards and PayPal payments may take a further 24-48 hours and if you opt for check payments, it may take around 1-2 weeks for you to receive your check via mail.
While your cashback earning will be posted to your Extrabux account 1 to 7 days after your purchase, the only drawback is that the purchase will not be available for payment until 90 days after the purchase. After around 90 days, the cashback becomes "available" and you can receive your payment.
Extrabux Referral Program
You can earn an extra cashback bonus of $5 if you refer a friend to join Extrabux. And, if they make any purchases, you will receive 5% of the amount they earn for the entire year. When your friend signs up with Extrabux, they will also receive a $5 cash bonus. You can refer as many friends as you like to join Extrabux.
That is a really competitive offer so make sure to use the SavingFreak.com referral link.
Company History
Extrabux is an online shopping cashback website that is owned and operated by Extrabux Inc. Extrabux was started in the year 2006 and is based in Las Vegas, Nevada, though its headquarters are in San Francisco, California.
Since March 2014, Extrabux Inc. is a subsidiary of Ebates Performance Marketing, Inc.
Alternatives
TopCashBack – One the top three options for cash back rebates, TopCashBack is consistently one of the best three sites for the percentage cashback you get on your purchases.
FRN – Owned by the same company as Shell gas stations, the Fuel Rewards Network lets you earn cash back towards gasoline purchase and is one of our top ways to save money on gas.
InboxPounds – One of the best sites to earn money in the UK, InboxPounds has a solid online cashback rebate program.
Pros
Extrabux is free to join and the joining process is very simple.
Reliable customer support.
You get a cash bonus of $5 when you sign up with Extrabux.
Multiple payment options – PayPal, check and credit card transfers.
Minimal payout limit of $10.
You get good product deals and shopping coupons on Extrabux.
The Extrabux extension makes the shopping experience very easy.
Cons
Not all purchases qualify for cashback.
The time for payments is long compared to other cashback sites and you need to wait for at least 90 days to receive your payment.
People not receiving their cashback seems to be a common problem with survey sites and this has been reported by some ExtraBux users. People complain that their cashback is not approved and shows as pending. Some people also complained that they did not receive any help from the customer support team.
ExtraBux Review Final Thoughts
Extrabux is a legit way to get cashback for your online purchases. Whether they are the right cashback rebate site for you will depend on whether they offer the best rebates for the stores you shop at the most.
The bottom line is that Extrabux is not a scam, they are a decent way to get free money,  and you should consider them an option for your online shopping.