Getting started investing sounds like a good idea to everyone, but many people see the cost holding them back.
The good news is that technology has completely changed the way we invest, and now many brokerages and apps that will give you free stocks to start investing on their platform.
What is even better is that many of these free stock apps have educational tools that can help you become a competent trader, provide free trades, and get you rolling on building your portfolio and wealth.
How to Get Free Stocks
Each of the apps we list below has different criteria for getting your free stocks. Some will give you the stock on sign up, others will require an initial deposit, and still, others will require that you make a trade with that initial deposit.
I will do my best to keep these updated, but make sure to read the instructions on the company's website to make sure you aren't left out of the free stock offers.
Best Places to Get Free Stocks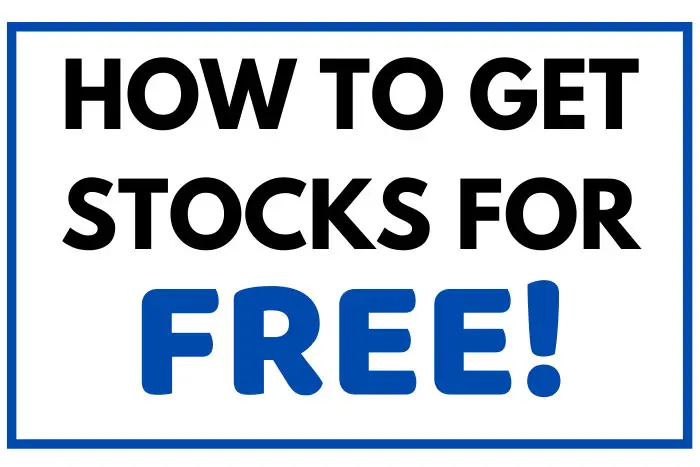 Robinhood
Robinhood has established itself as one of the top investment apps for beginners.
The interface is straightforward, and they offer the ability for people to buy fractional shares. Fractional shares means that you can buy as little as 1/1000000 of a share of stock.
So, if you want to buy Apple, you can buy $5 of Apple stock instead of a full share at over $200. My Robinhood app review covers all the details of how the service works.
When you sign up with Robinhood, you will receive a single share of stock from some of the largest companies in the United States. These stocks can be worth anywhere from a few dollars to hundreds of dollars.
Webull
Webull is a fairly new brokerage that operates only through their app. They are a bit more advanced than Robinhood but provide excellent training to get you up to speed.
If you are looking to grow into a more polished investor, then Webull will help you get there and provide all the tools you need to evaluate stocks more thoroughly. I did a Webull review, which covers all that they offer, including fractional shares to help those who can only deposit small amounts to get started.
To get your free share of stock, you have to sign up for a Webull account and fund the account to get a share worth somewhere between $2.50 and $250. If you deposit $100 into the account, you will get a free share of stock valued between $12 and $1,400.
Also, If you refer friends who sign up and deposit $100, you will get even more free shares of stock.
Acorns
Acorns is a micro-investing app that will give you $5 in stock when you sign up. The app connects to your debit or credit card and rounds up your transactions to the nearest dollar.
That extra change is then invested in ETFs, a large fund that invests in many stocks at once. In my Acorns review, I cover that they charge a monthly fee of $1 for balances under a dollar, and there is no way to trade inside the app.
Even with these limitations, Acorns is an effective way for people who do not regularly invest to get started.
iConsumer
iConsumer takes a much different approach to stock than the previous entries. They work as a cashback rebate site where you get paid a rebate when you use their links to shop at online retailers.
They will give you at least 100 free shares of stock when you sign up for iConsumer and make a qualified purchase (any purchase that generates a rebate to you). You can get additional shares for using the app to make purchases, referring your friends, or installing the browser extension.
Bumped
Bumped acts like a cashback app, similar to Drop or Dosh. However, instead of cash, you get fractional shares of stock.
You have to choose which companies are your favorites in a variety of categories. Once you do, whenever you shop at those companies with your registered credit card, you will get your fractional shares of stock.
Most of the time, you will get fractional shares of stock for the company with whom you are making the purchase (Netflix, Sams Club, etc.). With some companies, you will get fractional shares in index funds.
They currently have a waiting list, and I was approved in just under two months. So get signed up now. Bumped is the most hands-off free stock on the list.
Public
Public takes micro-investing and makes it social. Not only can you invest in any stock with as little as $5, but you can also see what other people are investing in when they make it public (thus the name).
When you sign up with Public and fund your account, you will receive $10 in stock. When you sign up, you will be giving them your phone number because Public is a mobile-only brokerage account.
Groundfloor
Groundfloor allows you to invest in real estate in the same way that most of these other options allow you to invest in stocks. Instead of investing in stocks, you invest in loans for real estate.
Your share of these loans can be as little as one dollar, the loans are only six to twelve months long, and you can get started with as little as $10. Right now, when you sign up with Groundfloor and invest $10 into, they will give you a free $10 to purchase a share of another loan.
The process took me about 15 minutes to get going, including setting up the first deposit. Once my deposit hit the account, I was able to start investing into real estate immediately.
It isn't free shares of stock, but getting free shares of real estate loans is a pretty awesome deal!
Stockpile
Stockpile is a brokerage that makes it easy for parents to be custodians of a child's brokerage account.
The platform also allows for fractional shares and focuses on stocks that are big brands, and children will easily know the name. This includes Disney, Apple, Netflix, and many others.
For signing up with Stockpile and making a deposit into your account, you will receive $5 in stock. In our stockpile review, we cover the entire platform and that all trades to cost 99¢.
Nvstr
Nvstr is a brokerage that offers the ability for a one-click portfolio optimization. The optimization is based on Nobel prize-winning research and experience in institutional investing.
The account is free to open, and they will deposit anywhere from $8 to $1,000 when you sign up for an Nvstr account. The catch is that you have to place a trade for a stock within 30 days of opening the account and that each trade will cost $4.50.
Free Stock Apps I am Using
If you are here thinking, "Hey Paul! That's a lot of apps, and I don't want to deal with all that." I completely understand.
If you want to narrow down the list, these are apps that I am personally using that offer free stock:
Tax Consequences of Getting Free Stocks
There are some tax consequences for stocks from these companies. You will get a 1099 that accounts for the value of the stock when you received it.
You do need to account for this on your income taxes. Any other taxes you accrue will be on when you sell your stock. If your stock has gone up in value by the time you sell, you will have to pay capital gains tax on that money.
Let's look at an example. Let's say you get 100 shares of free SavingFreak.com stock worth $1 each. You will have to include that as income on your taxes. If the shares were to go up in value and you sold it for $110 within one year of receiving the stock, then you would also have to pay short-term capital gains on the $10.
Short term capital gains are taxed just like regular income. If you kept the stock for more than a year, then you would pay long-term capital gains taxes and pay a lower rate that is based on your income.
Finally, if you sold the stock for say $90 and "lost" $10, you can deduct that capital loss from your income taxes. That's it!
Final Thoughts on How to Get Stocks for Free
All these incentives to start using different brokerages and programs can feel overwhelming. Whenever I start a new way of making or saving money, I try to temper my excitement and focus on learning no more than three programs at once.
If it is particularly complex, like a brokerage account, then I will do one at a time over a series of days. In your pursuit of getting free stocks, don't go overboard and then end up not fulfilling the terms to keep that free money in your account.
With all your investments, make sure you know how the investments work and what you are investing in. Happy Investing!