So, you are ready to invest $400.
Most people have problems with how to get started investing. The good news is that technology has given small investors many more options than we once had
These opportunities mean you also have to do more research to figure out which investments are right for you.
Ways to Invest $400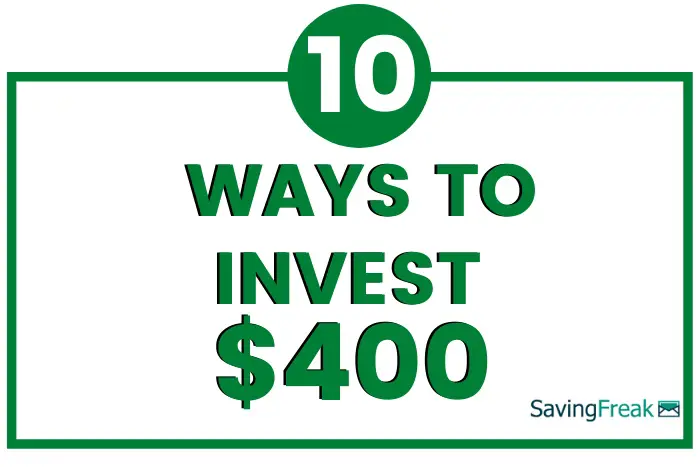 Betterment
Betterment is a robo-advisor that allows you to get into the stock market, diversify your portfolio, and not manage any investing yourself. Its hands-off investing approach enables new investors to get started without having to know anything about investing.
When you sign up for Betterment, the service has you fill out a short series of questions. These questions determine how risky you are willing to be with your investments. From there, you deposit the cash, and Betterment's algorithms take care of the rest.
Fractional Shares of Stocks
Buying entire stock shares can make too much of your $400 investment dependent on one company, and for some stocks, you will not have enough to buy a whole share.
A relatively new option for buying stocks is fractional shares. Brokerages like Public.com are now allowing people to purchase stock in a dollar amount instead of in full shares.
For example, as I write this article, Netflix stock is at $449. With our 400 dollars to invest, we cannot even afford a single share of Netflix. With Public and other fractional share brokerages, we can decide to invest $20 in Netflix and then diversify into other stocks.
If you are starting with a smaller amount and want to pick stocks for yourself, then fractional share investing will get you in the game and allow you to diversify.
WorthyBonds
Worthy Bonds gives all investors access to earning interest on corporate debt. The bonds are offered in $10 increments, making it easy for even the smallest investors to get started.
In exchange for your investment, you will receive 5% interest on your money. All of the bonds can be cashed in at any time, and they are backed by property from the business who is taking out the loan. This security makes Worthy Bonds one of the safest investments on the list.
Savings Account
A savings account is not the most exciting or investment, but if you are not sure where to invest, it is an excellent place to store your money until you are ready.
Check one of the many high-interest options out there instead of putting your cash in a traditional savings account. High-interest savings accounts are still very low, but they get about 20 times what the traditional accounts offer. The top interest rates currently include:
ETFs
Exchange-traded funds (ETFs) allow you to invest in a large number of stocks all at once. They can either follow a stock index (S&P 500, entire stock market, etc.) or can be a mix that is managed by a fund manager.
These funds are traded on the stock market like any other stock, thus the term "exchange-traded". Being available from any brokerage account makes them easily accessible. You can purchase them for free through the brokerage Public.com, which is an easy to use brokerage app.
ETFs are an excellent way to go if you want to take a step into managing your investments but are not yet comfortable picking individual stocks.
Charity
Giving to charity is an investment in your local community or people around the world. Donating some of your money may not feel like an investment, but it benefits you in two ways.
The first is that giving moves you away from a "me-centric" view of the world. It expands your perspective to others that are less fortunate and helps you think of money as a tool for doing good, not just making ourselves happy.
Second, giving to charity opens up many relationships that you will never have if you don't. These relationships make your life fuller, and they tend to help with all aspects of your life, even financially.
Debt
High-interest debt is an investment killer. I say this because the negative interest it costs you is typically much higher than the positive interest you can get by investing.
For example, many credit cards have interest rates of 20% or more. If you have that type of debt hanging around, there isn't an investment you can find that will consistently produce that kind of return.
Paying off debt and getting yourself to ground zero is well worth your $400 investment.
Car Repair/Maintenance
Automobiles cost money to keep up. In our family, we try to drive our cars until they fall apart because buying a new car is always negative on our financial plan.
Investing some of your 400 dollars into car maintenance can save you much more in repairs or your vehicle's replacement.
Education
Expanding your knowledge to advance in your career or business can be an excellent way to invest $400.
You can choose from online courses, college classes, or in-person training events. All are excellent options.
If you have children, you can also invest in a 529 plan for their college savings. The money you put in already has the taxes taken out. The money grows and is then withdrawn tax-free, like a Roth IRA.
Whether you are investing in your education or that of a child, it will always pay dividends.
Crypto
Blockchain continues to be adopted for many different industries to track and verify the authenticity of products. This adoption of the technology has made the cryptocurrency these blockchains run on more valuable.
While the technology is still in its infancy, and volatile, money can be made if you are willing to put in the effort. I have been using Coinbase as my exchange for crypto because it is based in the United States and makes it simple to get started.
How I Would Invest $400
When I first started investing, people gave me all these options but never seemed to help decide which options to choose. I found that frustrating and decided to give people examples of what I would do if I were in their situation.
For that reason, here is how I would invest 400 dollars:
Charity ($40)
As a part of our faith tradition, Amy and I give 10% of every dollar we earn to our local church and then additional money to other causes we believe in when we are able.
This $40 investment will keep us grounded in the way we manage our money and allow us to honor our commitment.
Betterment ($200)
The bulk of my $400 investment would go into Betterment. Having hands-off investments for the most significant part of our long-term strategy allows me to take smaller amounts of money and learn about new investment options.
In our Betterment review, we cover all the details of how this robo-advisor works and why they are an excellent option for you investing dollars. As we have more to invest, I would make sure to not add to this $200 investment until we are more diversified.
Worthy Bonds ($100)
I always want to have a storage of cash for when good investments come along. I also don't want that money sidelined and not earning interest. Worth Bonds gives me liquidity, safety, and high interest rates for my $100 investment.
Stocks ($50)
Trading stocks for myself takes time and research but can pay much bigger than other investments. I am not ready to go full force with more than 25% of my portfolio in my stock picks, but an investment of $50 would get me started.
With only $50 to invest, I would use fractional shares through the Public app. In our Public.com review, we get into all the investments you can purchase and why it is such an appealing brokerage option.
Crypto ($10)
I believe crypto is going to change a lot of how inventory is tracked and that it will become more valuable over time. There are many different cryptocurrencies right now so making a $10 investment in learning about them and to start investing is a small but essential step
As I mentioned above, any new investors would do well to start with Coinbase for their exchange because they are based in the United States, and there is a lot of oversight.
Final Thoughts on How to Invest 400 Dollars
When you first start out investing, you want to focus on two habits, consistency and diversification.
Investing regularly makes sure that your money continues to work for you in up and down markets. The concept of dollar-cost averaging means that sometimes you buy at a peak and lose a little until the market goes back up, and sometimes you buy at the bottom of a market drop and make a lot of money as the market rises.
Diversifying your portfolio allows you to make sure no one investment tanks your entire strategy. If you have ten different investments and one crashes, you still have the other nine making you money.
Above all, you want to get started. Turning your investment of $400 into $40,000 to invest begins today!