Having $7,000 to invest is a significant accomplishment.
Knowing where to invest that money can be just as hard as getting the money in the first place. With 7000 dollars to invest, there are many options that can help you grow your investments.
Ways to Invest $7,000
Betterment
Betterment is a robo-advisor that allows you to deposit money into your account, and they do all the investing automatically.
The investments are made by an algorithm that takes your answers to a short series of questions and develops a personalized investment strategy. Betterment is one of the most hands-off investment options available and gets excellent results for those who do not want to handle investing on their own.
Worthy Bonds
Worthy Bonds gives you a safe investment with a slightly higher interest rate. The "bonds" they offer are small business loans secured by the business's assets.
That means if a business were to default on the loan, Worthy would seize the assets, sell them, and get all your money back. That is a very secure investment and a respectable interest rate of 5%.
Fundrise
Fundrise is a great way to diversify your portfolio. Instead of investing in stocks, this company invests in real estate and allows you to fund these real estate investments.
Fundrise uses REITs (real estate investment trusts) to fund major real estate ventures. You place money in your account, choose which REIT you want to be a part of, and let Fundrise do the rest.
It is the easiest way to invest in real estate, and you only need $500 to get started.
Savings Account
A savings account is the safest and most boring place to put your $7,000 investment. That makes it the perfect place to put money for an emergency fund or store money when you don't know where to put it.
I wouldn't put my money in any old savings account. Try to get the highest interest rates that you can. The top rates right now include:
ETFs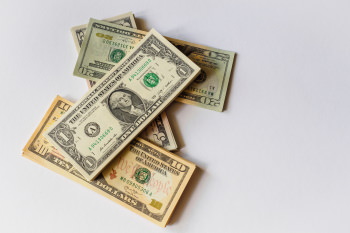 Exchange-traded funds allow investors to purchase into a large pool of investments in the same way you would buy a single share of stock.
Most ETFs have hundreds or thousands of investments in their portfolios, and you can see the history of how that ETF has performed. They are a great way to diversify your stock investing, and you can purchase with no trading fees using Public.com.
Stocks
Investing in stocks is one of the most popular ways to grow your money. The downside to picking individual stocks is that you can also lose a lot of money.
The other problem people have is the cost of a single share of one stock. As I write this, Amazon stock is selling for over $3,000. That means I would have to invest $3,000, or almost half my money, to buy one share.
Public.com has made stocks much more accessible by offering fractional shares. That means if I want to buy $100 of Amazon stock, I can get a corresponding percentage of one share. Public allows you to diversify your stock trading and avoid taking significant losses.
Crypto
Cryptocurrency has become a market-changing force in some countries. The technology allows companies to verify that they are shipping and receiving genuine products.
As a result of its usefulness, cryptocurrency now has value. Buying, holding, and selling crypto can be a great way to invest your $7,000.
I am using Coinbase to make for my crypto exchanges because they are based in the USA and subject to their laws.
Charity
Giving to a charitable organization may not feel like and investment, but it is an investment in our society and other people.
Whether you give to your local church or to and organization whose cause you firmly believe in, giving to charity makes a change in your perspective and helps you appreciate what you have.
Debt
If you have high-interest debt, you can make a major change in your financial situation by paying it off.
On top of not having that bill show up every month, the interest you are not paying fare outstrips anything you can earn investing. Think of paying off debt as getting rid of negative interest instead of missing out on positive interest.
Small Business
If you have a small business idea or already have a side hustle going, investing in that business can pay off more than the other investments on this list.
Taking some or all of the $7,000 you have to invest can springboard your small business into much larger profits.
Education
In an information age, it is essential to keep learning as you go. If there are college courses or an online class you want to take to help you in your current job or get you into another more profitable occupation, you should invest some of your 7000 dollars there.
How I Would Invest $7,000
Whenever I have an opportunity to invest a lump sum of money, I first map out all my investments on paper to have a conversation with my wife and then do the actual investing.
If I were looking at how to invest $7000, this is the most like scenario that would play out.
Charity ($700)
Our family contributes the first 10% of every dollar we make to our local church. It is the one check we always feel great about writing each month.
Giving to charity, whether it is your church or a cause you believe in, helps you become a better person. This investment of $700 is the first and easiest for us to make.
Betterment ($1,000)
At my current age, stocks are going to be a focus of our investing strategy. Betterment allows us to invest in the stock market without managing any of the research and trades.
Making an investment of $1,000 (14% of the portfolio) into Betterment provides an excellent piece of hands-off investing.
Fundrise ($2,000)
When you hit investment numbers like $7,000, it is time to focus on diversifying. A $2,000 investment into Fundrise gets me out of stocks and into real estate.
Worthy Bonds ($1,500)
If I have a lump sum, I like to keep a little back to take advantage of some other investment down the road. Keeping back $1,500 to invest at a future date, ensures I am ready when a deal comes around.
ETFs ($600)
I have done pretty well investing in mutual funds, but I am looking to switch to more ETF investing. Since I do not have a lot of experience here, A $600 investment will allow me to have enough to get started.
Public.com gives me the option of fractional shares on ETFs and free trades, so I will be using them to make the trades.
Stocks ($500)
Buying and selling individual stocks is an excellent way to build wealth. It can be an excellent way to destroy wealth if you make bad stock picks.
I am by no means a master trader of stocks, but I am learning. Investing $500 for me to practice picking quality buy and hold stocks is worth it for us. Public gets the nod as my brokerage because of the free trades and fractional shares.
Education ($400)
There is so much to learn that lead to new marketable skills. I have had my eyes on a few online courses, and investing $400 into my knowledge is guaranteed to pay off.
Crypto ($300)
Crypto is an exciting new technology that is changing the way commerce is done in many third world countries. Because it is useful, it is valuable, and because it is valuable, there are a lot of pretenders out there.
I have begun learning how to trade crypto, and investing $300 toward learning more makes sense in this emerging market.
Final Thoughts on How to Invest 7,000 Dollars
With all the options available for investing $7,000, there are two things you need to focus on.
The first is diversifying your investments. The old saying, "Don't put all your eggs in one basket." is particularly important when investing.
As you can see in my example scenario, I consider it highly important to diversify your portfolio away from just stock investments.
Second is making sure you understand how your investments work. If you do not know how the investment works, you should only devote a small amount to that investment.
If you look in my scenario above, there are several small investments made in areas where I don't fully understand the investment. Stick to these two rules, and you can grow your $7,000 to a $70,000 investment.