Do you ever wonder how to make some easy cash online? Have you ever wanted to earn some extra income by giving your feedback?
Fortunately, iSurveyWorld can help you do just that.
This review of iSurveyWorld will explain how you can earn money by giving your opinion online.
How Does iSurveyWorld Work?
There are many online survey companies out there. Most of them pay in reward points or gift cards. iSurveyWorld is different in that it pays you cash for completing their content.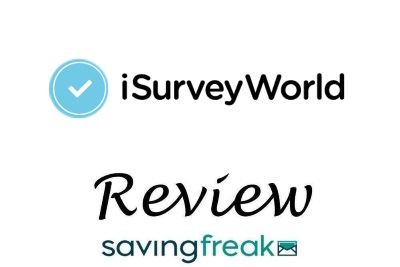 The service provides surveys from their own clients and from their partners. However, you will only be paid for the content from iSurvey. You will not be paid for  completing partner surveys.
iSurvey is quite simple and straightforward. You can get started by signing up for free and creating your profile. To do this you will need to answer a few questions asking for information about yourself.
Once this step is completed, you will be sent a confirmation link which will take you to the survey dashboard. From there you will be able to see all of your account details as well as your rewards. iSurveyWorld also gives you a free money as a sign-up bonus of $5 when you join.
Once you have created your account, you can start the process of filling out surveys to earn money. However, before you get to the survey, there are a few more steps you need to complete:
You need to click the "Qualify for a New Survey" button on the homepage of the iSurvey website.
You will have to answer a few questions about yourself and your household that will enable you to qualify for a particular survey. These questions determine the demographics that you will fall under.
Once you answer the questions, you gain access to the next available survey that you qualify for.
After this, you will have to wait for invitations to participate in other surveys on the basis of your qualifications.
In order to get a greater number of survey participation invitations, you must complete the profile information. Each survey that is sent to you is customized according to your demographics.
You will get more survey invitations if iSurvey has a clear picture of what you think. The more surveys you fill out, the more surveys will be available to you. Each survey is of varying length, but most of them will take around 15-20 minutes to complete.
You will get the estimated duration of the survey before you start. Once completed, you will see your pending rewards. Once your survey is validated by iSurvey, you will be given complete access to your earnings.
Is iSurveyWorld Legit?
iSurveyWorld believes in your opinions, and they are willing to pay you to answer surveys on various brands, products and services. iSurveyWorld believes that your feedback can help improve the products and services that you review.
So, you can definitely say that the company is not a scam, and is a legitimate way in which you can earn some extra cash.
When you complete a survey, the site pays you money and when you accumulate the minimum payout amount, your free money is transferred to you PayPal account where you can withdraw your earnings.
How Do I Get Paid?
The payment you receive for completing content differs, and depends on the time that you take to complete each survey.
Usually, surveys on iSurveyWorld pay around $1 to $2, which is similar to what other survey sites pay; however, with iSurveyWorld, it takes a long time for the money to be processed.
Once you have accumulated a minimum of $25, you can have the money transferred to your PayPal account by clicking on the button "Redeem My Rewards" under the "Awards" tab on the iSurveyWorld site. By doing this you will be requesting a cashout. Once you have requested the cashout, it may take 3 to 4 weeks for you to receive the money.
Company History
iSurveyWorld is an online marketing survey company that is owned and run by Dale Network Inc., one of the largest marketing firms in Latin America.
iSurveyWorld Alternatives
Survey Junkie – Maybe the largest of the online survey sites, learn more about this top platform in our review of Survey Junkie.
Panda Research – Panda has become a big player in paying people for surveys. Learn more about themin our Panda Research review.
Harris Poll – One of the oldest polling agencies in the country, our review of Harris Poll Online details how the company has changed and the money you can make with them.
Pros of iSurveyWorld
The biggest pro of iSurveyWorld is that the interface is basic and clean. If you simply want to fill out surveys and earn money without any frills, then iSurveyWorld is the best bet for you.
It pays in cash and not in the virtual currencies of points or credits. The cash you earn is sent to your iSurvey account directly.
Unlike its competitors, iSurveyWorld doesn't usually disqualify users once they have started a
iSurveyWorld is a free-to-join site and you don't need to pay any registration or membership fees.When you sign up, you even get a $5 bonus.
The customer service of iSurveyWorld is quite decent and if you have any issues, they are usually resolved quickly.
You can sign up once you hit age thirteen. So even teenagers can take surveys for rewards.
Cons of iSurveyWorld
The only way to earn money on iSurveyWorld is by filling out surveys. Other survey sites have more opportunities to get cash faster and earn rewards more quickly.
iSurvey does not have a referral program and so there is no additional earning opportunities.
Not only is it a limitation that iSurveyWorld has no other ways to earn money except surveys, but the surveys that are available tend to be The availability of the surveys greatly depends on your demographic profile. This essentially means that even if surveys are available, your profile may not match and you might not be able to participate in the survey.
Since surveys are the only way of making money on iSurveyWorld, the income potential is very low and with the limited number of surveys available, reaching the minimum requirement for cashout may take at least a month or even more to reach.
iSurvey World Review Bottom Line
iSurveyWorld is a useful site, it provides its users with a simple and clean interface, and is considered one of the better paid survey sites on the internet. The service is free to join and even rewards its members with $5 for signing up.
By taking iSurveyWorld's demographic based surveys, you can earn some extra cash. Once you have accumulated a minimum of $25, you can begin the process of getting paid. Your earnings will be transferred to your PayPal account. Once you have requested the cashout, it may take 3 to 4 weeks for you to receive the money.
iSurveyWorld is a reliable service that makes earning some extra income clean and simple.