Driving while using your cell phone creates a dangerous situation for everyone on the road, and maybe on the sidewalk.
Still, many people make a choice to text while driving or talk without a headset. But, what if you could get paid to put down the phone while you are driving?
This review of the OnMyWay app details how you can do just that.
How Does OnMyWay Work?
OnMyWay pays you to drive your vehicle and not text or talk on the phone while holding it to your head.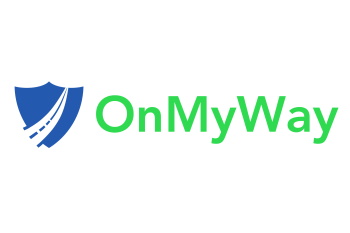 It does this when you install the app and permit it to lock many of the features of your phone once you reach a speed of 10 miles per hour.
While it shuts down all apps once you reach the desired speed, you can still use apps that were already started before you reach the 10 MPH threshold.
You can still receive phone calls when you use a headset.
How Much You Can Make
As you drive, you will make $0.05 for each mile. OnMyWay also rewards each new user with $10 when they sign up.
OnMyWay also has a very lucrative referral program. When you refer a friend, your friend will get the usual $10 sign up bonus, and you will receive a $2 referral feel.
From there on out, you will get $0.02 per mile that each of your referrals drives while using the app. You can see how this can add up quickly if you get several of your friends to sign up.
All earnings must be redeemed through the app using the OnMyWay Marathon Deals (explained below).
Is the OnMyWay App Legit?
Yes, the OnMyWay app is a legitimate way to earn cash for driving your car safely. People are getting paid through the app.
In checking the company, several employees and founders are available through Linkedin. Having people publicly give OnMyWay as their employer provides the company with a little authenticity.
The one disturbing point is that they have very little information about the company on their website, and there seems to be no way to see where they are located if they have received venture capital or their current financial standing.
Redeeming Earnings
For me, this is where it gets tricky. Instead of making a straight cash payment, you have to redeem your earnings through their Marathon Deals.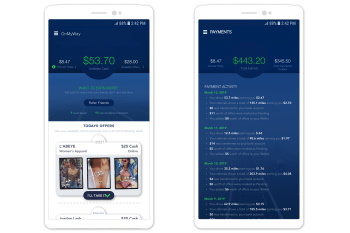 Granted, some of the Marathon deals are for cash payment, but they have restrictions on them like requiring a certain number of referrals or only giving you $0.50 cash value for every dollar you earn.
The Marathon deals that you can cash in for gift cards or credit are all on a one for one dollar amount. At this time, this is the most valuable way to cash in your rewards.
OnMyWay is promising to have lower value cashouts as they grow, but currently, the smallest I could find was $50.
Privacy Concerns
For me, the real concern with any app is how much information it could potentially be collecting from you.
Since OnMyWay is tracking your speed, it has to have location access. Without this, there is no way to track anything.
The app also requests access to your camera and verifies that you are a driver by scanning the back of your driver's license upon sign up.
Finally, to start referring friends, the app requires access to your contacts. Once I sent a single referral, I was then able to get my referral link and turn this access off.
I later learned that the referral link was in the profile, but that was hard to find the first time through the app when you are itching to get started.
Finally, the app kept asking for permission for my SMS (text messaging). This feature is so that the app can automatically send a reply when you receive a text while driving.
All this access to my data makes me a bit queasy and less likely to use the app.
Company History
I cannot find any information about the company itself.
So far, the only information I can dig up is that the co-founders have been working with OnMyWay since early 2018.
Unfortunately, there is not about page, and the key members of their team seem to be living in different locations. It may be that the company is just too young, but the lack of transparency doesn't fill me with confidence.
Alternatives
There are not many apps that work just like OnMyWay, but there are plenty of GPT and apps that pay for surveys. Some top apps to make money include.
Life Points – A survey site that pays you for your opiniont, LifePoints is an easy way to earn some side income.

Checkout 51 – An app that pays you for scanning your receipts, Checkout51 is a great way to shave the price off groceries and other purchases.
Rakuten – Get paid for all your online shopping. Rakuten is a top performer among cashback rebate sites, and was formerly knowns as Ebates.
Pros
Free to start and start earning

Works with both Android and IOS based phones

Great app for promoting safer driving

Pays relatively well

Also works when you are a passenger
Cons
Too much access required for personal information

Not easily redeemable for cash

Little company information.

A young company with little track record.
OnMyWay App Review Final Thoughts
I really like the idea of this app, and I am trying it out.
I have even thought about buying a separate phone that has limited access to my personal information to see how well it works.
At this time, I do not feel it is in the best interest of my readers to say this one is a winner. We should all be taking a limited wait and see approach since identity theft is so rampant, and the lack of cash out options are limiting.
If you are using the app, please share your experience with both how it works and payouts in the comments. I am genuinely pulling for this app to be a success that we can all rely on to earn a little extra cash on the side.