Opinion Outpost is a website which invites participants to complete surveys and questionnaires in return for points that can be exchanged for rewards and cash.
The data collected is invaluable for businesses and helps them to conduct critical market research into their products, getting real-time feedback from potential customers to help fuel new ideas and innovations.
How Does Opinion Outpost Work?
Signing up for Opinion Outpost is an easy process, and requires a simple email confirmation. Once registered, you will be invited to complete a profile by answering a series of multiple-choice questions.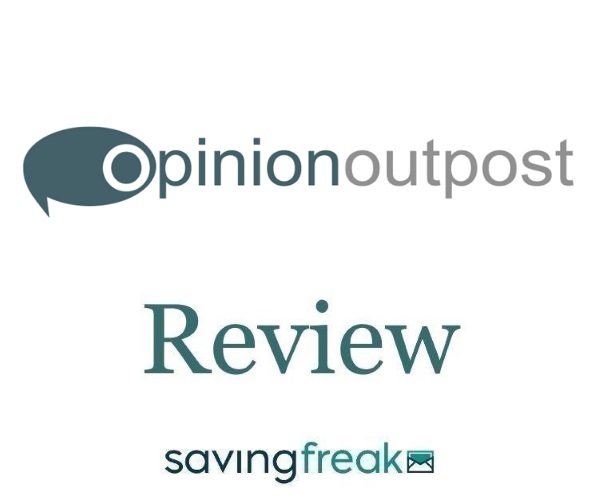 This will help determine the surveys you will be matched to; it is important to be honest and accurate, or you risk being disqualified from surveys later on.
Once you have completed this initial process, you will be directed to your first survey, which will contain instructions as to how much you can earn, and how long the survey is expected to take.
Many start in a repetitive manner, asking about your age, location, income level, and similar questions. Should you be disqualified at this stage, you will not be able to progress any further.
If, however, you are a match, you will proceed to the more specific questions to complete the survey and earn points.
One benefit of the site is actually the disqualification process. While some sites will simply shut you out of the survey, Opinion Outpost will automatically add you to a $10,000 quarterly prize draw.
This offers you some consolation if you have spent five or ten minutes on a survey only to be disqualified.
Is Opinion Outpost Legit?
Yes, Opinion Outpost is a legitimate get paid to take surveys website that pays its users.
The company has an excellent reputation within the world of online surveys. The site is owned by Survey Sampling International (SSI), a global company with a legitimate history in the sector.
You can sign up knowing that there is no evidence to suggest Opinion Outpost is a scam.
How do I get paid?
Most surveys offer between 5 and 50 points and offer an increasing scale with one point = $0.10, ten points = $1, and one hundred points = $10.
One of the benefits often reported with Opinion Outpost is the speed at which you can cash out. As soon as you request your reward, it will be instantly delivered in your preferred format. There are several different options to cash out your rewards, including:
PayPal: You can convert your points to cash in your PayPal account once you have 100 points ($10).
Amazon e-vouchers: Once you have 50 points ($5), you can request an Amazon e-gift code.
iTunes gift cards: You only need 50 points ($5) for this option.
American Red Cross donation: You can also choose to donate your points.
Compared to the high cash-out requirement of other sites, Opinion Outpost is way ahead with their low limits. This means that it is easier and more realistic for users to reach cash-out level, which in turn makes the site more user-friendly.
Company History
Opinion Outpost is an offshoot of a company called Survey Sampling International, an authentic and highly respected name in the world of surveys, market research, and global sampling.
They are headquartered in Shelton, Connecticut, USA, and have over a decade of experience in the industry.
Alternatives
Surveys are an easy way for marketers to reach their audience. This means there are a bunch of market research companies willing to pay what amounts to free money for your opinion. Some of the biggest competitors to Opinion Outpost are:
Survey Voices – More of an aggregator than a survey site, SurveyVoices helps you to find other survey opportunities.
E-Poll – With a newly updated site, E Poll makes it easy to make money with their survey opportunities.
Springboard America – Part of the Maru Group, a top market research company, Springboard America is able to deliver on their promise to pay for relevant surveys.
Pros
Better survey choice: Users can select surveys based on the number of points offered, allowing them to pick the best choice and earn maximum points.
Instant redemption: There is no long wait to redeem your rewards; they are instantly available following your request.
Instant survey access: Users can access available surveys on the website; there is no need to wait to be emailed.
Low cash-out requirements: Only a $10 limit to cash out; this is very low for the industry.
Other earning opportunities: Can also earn through games and sweepstakes, as well as earning $1 every time you refer a friend (they must complete at least one survey to qualify).
Cons
Spam email: Users have reported being spammed with emails after sign up, and this can be hard to manage. To avoid this, set up an email address just for survey sites; this will prevent your main inbox from being spammed with offers.
Limited cash-out options: The only cash-out options are e-cards and cash; this may feel restrictive compared to the offers available on other sites.
Outdated site: Some users have reported finding the website outdated and hard to use.
Tough survey qualification: Like many survey sites, the offers you receive will depend on your demographic and profile information. This can result in being disqualified for surveys, even when you are five or ten minutes into them.
Opinion Outpost Review Final Thoughts
Compared to its competitors, Opinion Outpost has a lot of positive features, which makes it one of the best picks for survey sites currently available.
The cash-out limit is low, and it is possible to pick surveys according to the number of points they reward, putting the user firmly in control.
Most of the issues, such as being disqualified from surveys and lack of guaranteed income, are points you can also raise with most survey sites. Within the industry, this site has good reviews for a good reason!