Refinancing an auto loan can mean big savings in your monthly budget and in the amount if interest you pay throughout the life of the loan.
rateGenius helps people to refinance their car loans in an easy to use online platform.
How Does rateGenius Work?
rateGenius basically works as a connector between those wanting to refinance their auto loans and the companies that can provide this service for them.
The company isn't a direct loaner, but their service is still essential for customers who like to analyze various options before committing to make sure they're getting the best deal.
rateGenius offers refinancing options with interest rates as low as 2.99 percent, and their credit score requirements are on the lower side, making them more accessible to more potential clients.
rateGenius aims to help you save money with their refinancing options. Be it by lowering monthly payments, overall interest, or both. They boast an average monthly saving of around $76 for most of their customers.
They are committed to helping alleviate the finances of customers who have worked to improve their credit score since they financed their car.
Another primary benefit of refinancing is that you can often defer a car payment, which in turn can help you create a bit of budget buffer for unexpected emergencies.
Upon refinancing, you can reap these benefits and save money in the remaining duration of their loan.
Types of Car Loans Available
Unfortunately, rateGenius, like most similar services, doesn't offer options for first-time buyers.
You're also out of luck if you're interested in refinancing cars that aren't for personal use, such as for a company fleet.
The company focuses on refinancing options, specifically lease buyouts and refinancing of personal auto loans.
Qualifying for a Loan with rateGenius
It's relatively uncomplicated to qualify for a refinancing loan with rateGenius. For one, the company doesn't require customers to meet high demands of any type, and their process is also pretty streamlined.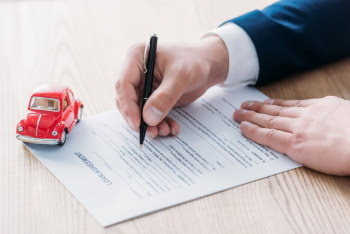 rateGenius works best if you have an expensive car loan and have since improved your credit or if you want to buy out your lease.
They're very transparent in their terms, super accessible nationwide, and very user-friendly to navigate in general terms.
Some of the points you'll need to meet to get approved are:
550 credit score
At least $2,000 certified income per month
Your loan should be between $10,000 and $90,000.
Your car cannot be older than 10 years.
Mileage cannot be above 100,000.
You need to be at least 18 years old.
You need to be a U.S. citizen.
If you're approved and decide to move forward with the refinancing, they will help you with the entire process. rateGenius will handle everything from initial paperwork processing to title transfer.
Because they run hard credit checks, they will first determine from your personal information whether you're likely to be approved or not. If they don't think you'll make the cut, they won't continue with your process.
However, if they have decided to work with you, they will try to get you approved a few times, which is worth mentioning and keeping in mind because each attempt represents a hard check on your account.
A hard check can result in a lowering of your credit score, so it is vital to minimize the number of checks rateGenius does.
Company History
rateGenius has been around since 1999, which gives them an ample trajectory that should inspire some confidence in new clients.
They originate in Austin, Texas, and their business goal and guiding principle are to impact the financial lives of their customers positively.
They operate as a broker that will try to get you the best deal within its lender network, which comprises more than 150 companies. This network is one of the most extensive among associate lenders in the country.
Their network includes mostly credit unions, and what this means in practical terms is that most borrowers realize they have quite a few options they hadn't been aware of before.
Alternatives
There has been a rising market for refinancing car loans. Some other top performers for refinancing include:
RefiJet – Handling all the paperwork for you, RefiJet is one of the simplest options for a car loan refinance.
MyAutoLoan.com – With a guarantee of at lest four offers, MyAutoLoan.com is a top aggregator of refinancing options.
Auto Approve – With an A+ from the BBB, Auto Approve is a reputable auto loan lender.
Pros
Fast application available over the phone or online.
Low score credit requirement of just 550.
You can save an average of $76 per month.
You can improve your credit conditions if your credit has improved since you signed it.
rateGenius doesn't charge application fees to pre-approve you.
Quick response to your refinancing request, usually within 24 to 48 hours.
Your auto loan could be brand new, and as long as you've made at least one payment, you're eligible.
You can defer a car payment.
A vast associate network that includes credit unions not found elsewhere.
Cons
Hard credit check that negatively affects your credit score.
A lower range of money you can borrow when compared to other similar companies.
Only available for personal-use cars.
You need to watch out for hidden loan fees from the actual lenders.
Your car needs to be relatively new to qualify.
You need to have at least two years of payments left in your loan to be eligible.
rateGenius Review Final Thoughts
Because they run a hard check on your credit, their service is better suited for borrowers who have already decided to refinance and plan to do it immediately.
All those who are still undecided and just researching quotes and conditions will do better with a refinancing company that starts their process with soft checks instead.