There are a number of websites that offer rewards and money for completing online surveys and offers. SaySo Rewards, which was formerly known as SaySoForGood does the same, but with a different approach.
SaySo Rewards donates money to provide meals to children in different parts of the world for every survey or offer that you complete.
How Does SaySo Rewards Work?
It is quite simple. You just need to fill out a form, in which you provide certain demographic information like age, gender, and contact information, including name and email ID, to start taking surveys.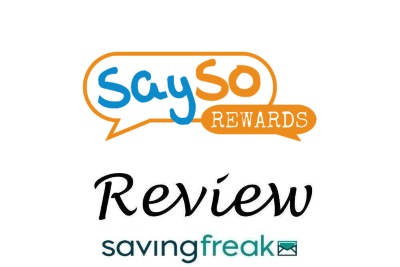 The demographic information is used by SaySo to identify the suitable survey for you and also to track the results of the survey.
You can either take surveys or complete an offer. You will get a reward from the third-party site where you completed the survey or offer, plus SaySo will donate a certain amount to its non-profit partner.
You can also use their WordPress plugin to earn points for an Amazon gift card and donate a meal. If you have a number of connections you can also refer people to take surveys or participate in offers via SaySo and receive points for those referrals.
Keep in mind that each survey has a specific target market. The company that's conducting the survey wants a specific group or type of people to take it.
As a result, you might not qualify for a survey, because you are not part of the company's target market. Over time, as you take more surveys, SaySo will collect more personal information from you (it's up to you whether you want to provide the information or not), which will allow them to invite you for more relevant surveys.
Go through their privacy policy to learn more about what SaySo does with your personal information.
Note that currently only citizens of the United States can take surveys. Previously, it was open to people in Canada, the United Kingdom, Australia, France and Germany as well.
Is SaySo Rewards Legit?
SaySo Rewards works with Action For Hunger, which was founded in Paris, France in 1979 and works towards helping children suffering from malnourishment. It also works with communities that are struggling with hunger to find sustainable solutions as well as provide access to safe water. This non-profit organization has served over 50 countries around the world.
Earlier, SaySo has also worked with the United Nations' World Food Programme.
How Do I Get Paid?
You will not actually get paid, but you will get the chance to win rewards and incentives or become eligible to enter a prize draw or sweepstake.
These could be offered by SaySo itself or its client that has created the survey — or offer — you participated in. In addition to this, SaySo will also donate an amount equivalent to one meal or about $0.15 to Action For Hunger.
Company History
SaySo Rewards, which is operated by Seattle, Washington-based Research For Good Inc., works exclusively with Action For Hunger. Research For Good was set up in 2013.
The SaySo Rewards brand was initially meant to be targeted at their internal users, but it became a hit in the affiliate marketing space and morphed into its current avatar.
The donations made to Action For Hunger are sent on a quarterly basis. According to Action For Hunger, $45 takes care of a child's meals for a couple of months. SaySo allocates a small amount for every completed survey, which based on their calculation, is equivalent to one basic meal.
SaySo also distributes third-party surveys to its members. So, if you're a member of one of the several online survey distributors, you will come across SaySo Rewards surveys. On completing the survey, you get the reward and SaySo makes a donation to Action For Hunger.
SaySo Rewards Alternatives
Survey Junkie – One of the largest survey providers, SurveyJunkie is a legit online survey company.
MySurvey – One of the first online survey sites, MySurvey is a major player in the paid survey site group.
Harris Poll Online – Harris is a long time polling and consumer research company. Their new Harris Online platform is keeping them near the top of the industry.
Pros
Great Cause: There's no dearth of online survey sites, but SaySo Rewards' unique approach makes it stand apart. You not only get to win rewards of various kinds, but at the same time you can play a small part in helping out a great cause. The fact that in the 21st century there are kids who don't get enough to eat is unacceptable to say the least. So, by participating in these surveys you get to help them in an indirect way.
Amazon Gift Card: The option to exchange rewards for Amazon gift cards is great. You can purchase something tangible and useful with it. While you have to take surveys, its similar to getting free money in your spare time.
Website Monetization: The option to install a SaySo plugin on a WordPress website or blog is good way to increase revenue. Google AdWords is obviously the option most WordPress sites and blogs opt for, but, in addition, this plugin can fetch you a few dollars more. However, it only works if you have a steady flow of visitors to the site and they are inclined to participate in online surveys.
Cons
Survey Qualification: This can prove to be really irritating and frustrating. It is completely understandable that the survey requires a particular group of members to participate, but that should be made clear at the beginning. Instead, you end up filling out several entries and wasting time, after which you're disqualified from taking the survey.
Technical Issues: A number of times a technical issue comes up after the survey has been completed and you don't receive your reward. So, you end up getting in touch with SaySo, sending a mail and following up. This takes up too much time.
Only US: Currently, only people in the US can participate in surveys through SaySo Rewards, which is unfortunate. They used to offer surveys to people in other countries as well. Hopefully, they will expand their reach once again.
SaySo Rewards Review Bottom Line
SaySo is definitely the most socially conscious of the top online survey sites.
While they do not have the absolute best payouts, they are a legit online survey site and do some great work at raising money for a worthy cause.
As the site is around longer I fully expect them to get some of their issues worked out and continue to be a force for good and for good survey opportunities.