Editorial Update
MySurvey and Global Test Market were merged into a single survey site named
LifePoints
. We kept this article in place for informational purposes but all links to MySurvey will take you to
LifePoints.com
.
Have you ever wondered if there is a convenient and easy way to make money on the internet? Have you ever wanted to make money by giving your feedback?
Fortunately for you, MySurvey has already thought about those questions and have provided an easy solution.
This review of MySurvey will explain how to make money and earn prizes by giving your opinion.
How Does MySurvey Work?
MySurvey is one of the most popular online survey websites on the internet. It allows you to earn some extra cash on the side by filling out surveys after signing up for free.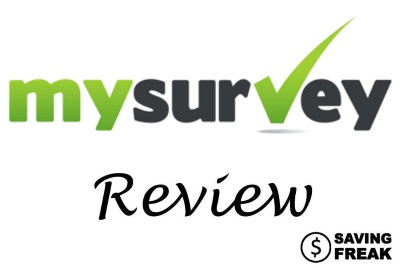 These surveys help numerous businesses, governmental bodies and other organizations to gauge public opinion about their products or services.
As you sign up, you are asked to create your own profile and provide some personal information. This is followed by a short questionnaire – about ten questions – that helps MySurvey gauge the best kind of surveys to be sent to you.
As one of the oldest in the business, MySurvey takes steps to make things easier for you. An example would be the feature that tells you how much time the survey will take to complete, and how many points you will earn.
This helps you to decide whether you want to spend time on a particular survey or wait for something better to come along. Every time you successfully finish a survey with MySurvey, you earn a certain number of points.
The platform also gives you the chance to enter many sweepstakes drawings along the way, to earn even more.
Is MySurvey Legit?
As one of the oldest and most trusted players in the field of online research, it is safe to say that MySurvey is not a scam. It started off as a marketing research company set up to gather data from different consumers in countries like the United States, Canada and the United Kingdom.
According to MySurvey's official website, the company paid over $32 million to respondents in the year 2014. Surveys are usually short and interesting, which keep respondents engaged. It is easy to finish a couple of surveys even in your daily lunch break.
The amount that you earn from MySurvey, however, depends on the time that you spend filling the surveys. When you first sign up, it is possible to earn between $3 and $8 per hour but this amount can increase as you gain more experience.
MySurvey endeavors to keep its frequent survey takers happy by increasing the number of surveys that they have available. After some practice, you will get faster at filling the surveys. This may increase your income up to as much as $10 per hour.
How Do I Get Paid?
As was mentioned earlier, MySurvey awards you points for each survey that you take and as you move forward, you can exchange these points for cash prizes or in the form of gift cards.
This depends on the company that has requested the survey. Some may prefer one payment method over the other.
Roughly 1,200 points that you earn taking surveys translate to about $10. MySurvey requires you to achieve a minimum amount of points before you can opt for a cashout. This is usually about 1,200 points (or $10 as mentioned earlier).
If you want your points to be converted to cash, it can be deposited directly to your PayPal account. Accumulating about 1,800 points will make you eligible for a $15 payout. The payment, however, may take 4 to 8 weeks to reach you.
You can also redeem your points by buying gift cards, to retailers like Amazon, or buying merchandise directly from the vast variety of things that the company offers.
Company History
MySurvey is the online research platform for Lightspeed, a consumer research company with an experience of over 70 years. Its roots lie as far back as 1946 when its parent organization was set up to help businesses assess what consumers thought of their products. These surveys could be carried out over the phone, via email, or now through MySurvey.
The online version of the company was launched in the 1990s under the Lightspeed Online Research Inc. and still maintains a hold in the field of online surveys despite a large number of newer companies launching in recent times.
The company pays consumers for their opinions after each survey is filled out. These surveys can cover a very vast range of topics. The longer or more complicated the survey, the more the respondent earns after filling it.
Alternatives
The survey industry is very competitive. While MySurvey is one of the most popular free paid surveys services, some of the other top places to take surveys are:
Survey Junkie – Probably the largest of the surveys for money sites. Our review of Survey Junkie details how they work.
Swagbucks – While they do have surveys, Swagbucks has a bunch of ways to earn money including videos and searching the Internet. Learn more in our review of Swagbucks.
E-Poll – Not as well known as the above alternatives. E-Poll is a solid performer in the surveys for cash industry. Learn more about the company in my E-Poll review.
Pros
Free Sign Up: You don't need to pay anything to sign up. So you owe the company nothing!
Accessible to More People: MySurvey's payouts are some of the highest, which means you make money sitting at home.
More Surveys to Take: In comparison to other similar platforms, MySurvey gives you access to one of the highest numbers of surveys, which means more money.
Accessible to More People: The user base for MySurvey is not limited to the United States and extends to other countries like Canada, the United Kingdom and Australia.
New and Exciting Offers: MySurvey keeps you engaged by giving you a number of incentives like a wide selection of surveys and tons of contests for you to get free money!
Trust Through Experience: The company has been in business since 1946 and online since 2001, giving you a sense of security that only comes with years and years of experience.
Cons
The Start Is Slow: You shouldn't have very high expectations about what you're going to earn when you start out. With time and more experience, the money improves.
High Cash out Balance: The minimum balance of about 1,200 points that is required for you to cash out could be quite high, especially when you start out.
May Be Tough to Qualify for Some Surveys: As different companies put out surveys for their different needs, you may qualify for as low as only one survey a week. An example of this would be a survey that is interested in only females between the ages of 25 and 30, residing in Los Angeles. The window is too small for most people on MySurvey.
Delayed Payments: The payments are not always on time. In case of contests, it may be even longer. This, however, does not mean that you won't receive your money; it may just take a week or two extra on top of the usual time.
My Survey Review Final Thoughts
MySurvey is one of the best paid survey sites available to people in the United States, Canada, Australia, and the United Kingdom. The free sign up process and many other features makes using MySurvey easy and convenient for everyone.
With an ever-growing supply of surveys available, My Survey's point system will provide an easy way to earn cash prizes and gift cards. Cash prizes earned will be redeemable once you reach the minimum of 1,000 points. Thankfully, the amount of money you make will depend on how much time you spend using the service.
The convenience and supply that the company provides, you can easily make some extra cash on MySurvey.