Having $8,000 to invest is a great achievement!
The problem is that figuring out where to invest your $8k can take just as long as earning it.
Ways to Invest $8,000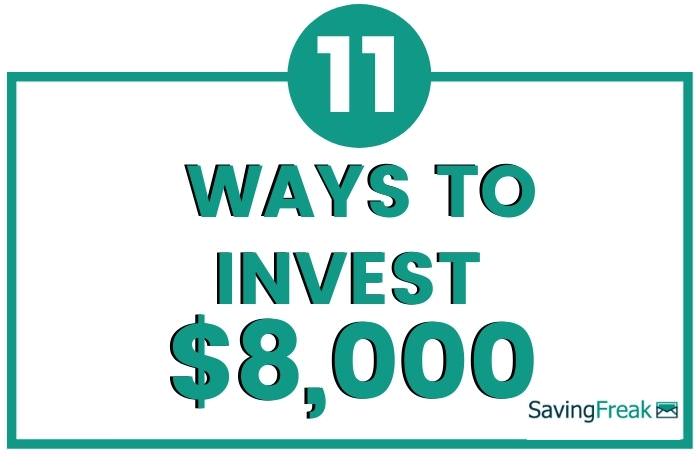 Betterment
Betterment is one of the best hands-off ways to invest in the stock market.
Instead of you paying attention to stocks, mutual funds, and ETFs, Betterment manages everything for you. All you have to do is fill out a series of questions when you sign up, and Betterment does the rest.
Fundrise
Fundrise does for real estate investing what Betterment does with Stocks.
Instead of doing research, buying properties, paying taxes, etc. Fundrise allows you to invest in a real estate investment trust, where experts do all the investing, and you get an excellent interest rate.
There is a minimum $500 investment to get started with Fundrise.
Worthy Bonds
Worthy Bonds has made lending to small businesses extremely easy and profitable.
They allow you to get started with as little as $10 investment into their bond offerings. These offerings are loans given to small businesses and secured with a hard asset (think business inventory).
The loans are only for a maximum of 80% of the value of the assets. That means if the business defaults, Worthy can sell them and recover all the money invested.
You get a tidy 5% interest on this very secure investment.
Savings Account
Savings accounts are pretty dull, but they are the safest place to store you money while figuring out where to invest.
ETFs
Exchange-traded funds allow you to invest in a large number of stocks, bonds, or other investments and purchased in the same way you would a single share of stock.
For example, you could buy a small amount of all the stocks in the S&P 500. It's a great way to diversify your investments, and you can invest in tons of ETFs for free with a brokerage like Public.
Stocks
Picking stocks can be fun and profitable if you do the research and invest in what you know you can do very well.
Brokerages like Public and M1 Finance allow you to invest in fractional shares and no trading fees, making it easier to diversify your stocks than ever.
Crypto
Cryptocurrency has made big waves in financial markets, both good and bad. It can be volatile, but there is money to be made if you understand how it works and what cryptos you are purchasing.
The easiest way to get started is with Coinbase. They are headquartered in the USA and work with our laws to ensure you don't get nailed by the IRS.
Small Business
Not everyone is cut out to be an entrepreneur, but if you are, then you can make more money investing in building a business than any other item on this list.
The downside is that you can also make less money investing in a failed business than any other item on this list.
Charitable Giving
You will not receive direct financial gain from donating to charity, but it keeps your perspective on life in the right place. Money isn't everything, it is essential, but people are more important.
Giving to charity keeps you grounded, but it also introduces you to people you would never meet otherwise. In my faith tradition, we believe that God blesses you but, it isn't always monetarily. Sometimes he blesses you with amazing relationships.
Education
Most people think education means getting a college degree, but anything that helps you progress in your career or business can be a great way to invest your $8k.
Certifications, conferences, and online courses are a great way to invest in yourself.
Retirement
Many of the above options can be purchased through a retirement account.
The benefit of investing in your retirement is that there will be some tax shielding as your investments grow.
The most popular retirement accounts include:
All of these options are a great way to invest your money for your retirement years.
How I Would Invest 8,000 Dollars
Working through financial decisions on paper before moving money around is an integral part of being financially responsible.
After looking through the options above, this is how I would invest $8,000.
Giving ($800)
In our family, we always tithe 10% of any new money that comes in. If we had received $8,000, we would immediately invest $800 in our local church.
If this is not a part of your faith tradition, I still encourage you to give a portion of your new money to charity. It makes you a happier and better person.
Betterment ($2,000)
I have become a fan of robo-advisors because they make investing much more straightforward for those not interested in learning how to invest.
A quick investment of $2,000 in Betterment puts my auto-pilot stock investing in a good place.
Fundrise ($3,000)
Diversification is a big part of making sure your portfolio grows. Investing $3,000 in Fundrise takes 25% of my investment into real estate.
ETFs ($1,000)
Exchange-traded funds make it easy to get into hundreds or thousands of stocks at once. A $1,000 investment will allow me to diversify across several ETF options.
Stocks ($700)
Picking stocks has always been appealing to me. The upside is enormous.
That being said, I understand the risk and am limiting my investment to $700 so I can learn and lower my exposure.
Crypto ($500)
Crypto is still an emerging technology, but there is money to be made if you know what you are doing. I am still new so investing $500 to learn is a good start.
Final Thoughts on Investing $8,000
Figuring out how you should invest $8,000 can take a little time but finding investments that you feel comfortable with is worth the inconvenience.
With a good diversification of investments, you could find yourself managing an $80,000 investment or even an $500,000 investment in just a short time.