When searching for high-end identity theft protection solutions, McAfee may be one of the serious considerations.
This product has several services and plans available to keep your information safe and to limit your susceptibility to fraud.
Below, we explore whether McAfee's identity theft protection solution is a viable option for you.
How Does McAfee Identity Theft Protection Work?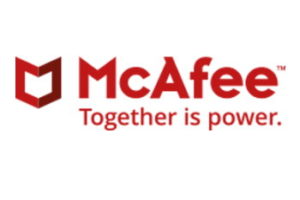 The McAfee identity theft protection solution is user-friendly and works on almost every desktop or mobile device.
As a browser add-on, it is available for Chrome, Microsoft Internet Explorer, Mozilla Firefox, and Safari. The McAfee identity theft protection product is also available as an app for Android and iOS.
You have to enroll for an Identity Theft Protection plan to access the features this product has available. You can do so through a standalone product, your McAfee account, or any McAfee product.
Plans Available
McAfee Identity Theft Protection offers a selection of four tiers, namely Standard, Plus, Premium, and Essentials.
The Essentials plan is available for free to subscribers of McAfee products with multi-device licenses. If the auto-renewal for your McAfee products is on, you are also eligible to enroll for the free Essentials plan.
The Standard plan is available at a discounted annual fee of $69.99 and offers the essential services, including:
Cyber monitoring,
$10,000 reimbursement for stolen funds,
credit monitoring with one bureau,
SSN tracing, and
24/7 support from dedicated agents.
The Plus plan includes all the standard features, as well as:
Court and criminal record alert
Non-credit loan alerts
The Plus plan typically costs $174.99 per year. Currently, the plan is available at a discounted rate of $139.99.
The Premium plan offers all the features of the Standard and Plus plans as well as:
Sex offender local monitoring
Financial account takeover monitoring
Credit report monitoring with all three bureaus
The Premium plan currently costs $209.99 per year. Each program is only available to one person but can be installed on multiple devices.
There is a 30-day free trial period available for clients who want to try out the product before committing. To cancel the plan without paying, you have to contact McAfee's customer support within thirty days after signing up.
McAfee Identity Protection Details
The McAfee Identity Theft Protection plans include a wide range of solutions:
Cyber Monitoring
This monitoring service tracks more than 680,000 black market locations for signs of identity theft. It covers both the visible and the dark web. Whenever there is suspicious activity in these databases, you will receive an alert so you can take immediate action.
Credit Monitoring
The Standard and Plus credit monitoring plans cover Experian credit reports for credit pulls. Whenever there is a malicious credit check on your Experian credit report, you immediately receive an alert.
If you are subscribed to the Premium plan, however, McAfee will also monitor your credit report from Experian, as well as the ones from TransUnion and Equifax.
Always-On SSN Tracing
When a new alias is linked to your social security number, it is usually an indication that someone is trying to steal your identity. Always-On SSN tracing instantly lets you know if agencies link your social security number to a name or address that is not yours.
This service also has access to US Postal Service records. Whenever someone tries to change your registered mailing address, you will receive a notification.
Sex Offender Monitoring
This handy feature lets you access reports for all registered sex offenders who live in your area, following their release into the community.
Financial Account Takeover Monitoring
Financial account takeover monitoring is a key feature of the Premium plan. If your details are used to open a new bank account or credit card, you will receive an alert. You will also be alerted if changes are made to one of your existing accounts.
Recovery Services
Receiving an alert is not enough to prevent identity theft or fraud. You also have to take the necessary actions to prevent a criminal from stealing your identity or funds. McAfee has several recovery services in place to protect your identity.
Lost Wallet Protection
Misplacing your wallet or its contents can leave you vulnerable to identity theft. If you are subscribed to this service, McAfee will assign a dedicated stolen wallet specialist to cancel your credit cards before someone can use them for fraudulent activities.
Part of this service involves dealing with the Transportation Security Administration.
24/7 Support
When you receive an alert of suspicious activity, you can contact McAfee's customer support staff at any time of the day or night. These dedicated agents will provide you with guidance and assistance in recovering from identity theft.
Company History/Info
McAfee was founded in 1987 as McAfee Associates and incorporated in the state of Delaware in 1992.
In 2011, the company was purchased by Intel and became part of the Intel Security Division. McAfee's corporate headquarters are located in Santa Clara, California.
Alternatives
It feels like a new identity theft provider pops up every day. Three solid alternatives to McAfee ID Protection include:
MetLife Defender – ID Protection from a top insurance provider.
Equifax ID Patrol – Equifax has gotten a lot of bad press lately, but their ID Patrol service is solid.
IdentityIQ – On of the top identity theft protection providers in the United States.
Pros
Comprehensive cyber monitoring solutions
$10K stolen funds reimbursement and $1M identity fraud reimbursement
24/7 access to support agents
Always-On social security number tracking
Cons
Only available in the United States
Services are relatively expensive
McAfee Identity Theft Protection Review Final Thoughts
McAfee Identity Theft Protection is the ideal solution for users who require comprehensive, multi-channel reporting from a top id protection provider. The drawback of this service is that it is not available to users outside the United States, and it only supports English.
The platform is user-friendly, however, and even at the low subscription level, this service offers decent protection in comparison to similar products.