Password requirements are getting more and more complicated, and using the same password across all your logins is a no-no.
Password managers like True Key have stepped in to make it easy for you to keep track of all your passwords across all your logins and devices.
How Does True Key Work?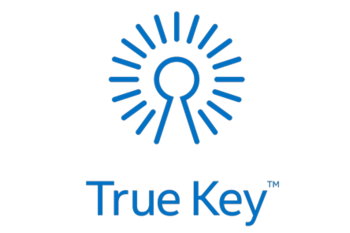 True Key is a multi-platform tool that eliminates the hassle of passwords by remembering them for you and logs you into your favorite websites.
Password managers remember all your passwords, secured with a single unique password that you must remember to access all your passwords. Well, what if you forgot that particular password? This is a common catch for most password managers.
To overcome that very drawback, True Key offers some of the best available multifactor options that are unique to you, such as facial recognition and fingerprint.
This is the real advantage True Key has over all its competitors, and it works across platforms, such as macOS, Windows, Android, and iOS.
The website has no mention of support for Safari but offers an extension for Microsoft Edge. If you are feeling adventurous, you can combine more authentication methods for added security.
The software itself is simple; if you don't need to store more than 15 passwords, you can install and use True Key for free of cost. Your first step is to set up an account where you will designate your master password.
Once you install the browser extension and login, you will go through a setup process that will import your logins and only use True Key going forward.
The software detects when you are creating a new account (on a new website), and offers you a password generator and lets you create a 16-character (default) password for that website. You can create a password that is as long as 30 characters.
Is True Key Legit?
Yes, True Key is a legitimate password management platform. 
The company has had an interesting journey; it was previously known as PasswordBox. Until recently, it was being branded as "by Intel Security", but is now being marketed as a McAfee product. McAfee is a company that a lot of people with computers in the 90s would remember very well.
McAfee is a company that has been around since 1987 and named after its founder, John McAfee. McAfee has seen its ups and downs since its inception.
Over the last 30 years, they have bought and sold numerous companies, survived a big security brouhaha, and bought out by tech giant Intel for $7.68 billion.
But the adventures won't stop for McAfee there. From being a part of Intel's Security Division, McAfee is now McAfee again. And the company is back to doing what it does best, providing the best possible security solutions to its customers.
Services Offered
Let's take a look at some features that True Key offers to its users.
How It Lets You Sign In
True Key is unique in the sense that it lets you log in using several methods:
Fingerprint: 

If your device has a fingerprint reader, you can log into the True Key with just a touch.

Facial Recognition: 

Not as fast as the fingerprint method, but it works. The software maps your face to sign you with just a look. You can combine this method with others for that added layer of security.

Trusted Device: 

True Key will remember which device is yours. If a sign-in attempt is made using a device that is not trusted by you, you will be notified by True Key.

Microsoft Hello

: 

This feature is exclusive to Microsoft Edge.

Second Device Verification: 

This is another level of additional security. If you are signing in from a Mac or a PC, your tablet or phone will get a notification. All you will need to do is swipe the screen, and you will be signed in.

Master Password: 

A standard feature in all password managers. This is the one password that you will need to remember to get in anywhere, including a new device.

Email Verification: 

Another added security feature. True Key sends a link to your email, and clicking on this link will verify it is you.
Information Management
Below is a list of methods True Key uses to manage your information:
Password Manager: 

All you need to do is add your information in once, and True Key will take care of the rest. What it does is store your passwords and usernames and fills them in when required automatically, making the process faster and hassle-free.

Digital Wallet

: 

This keeps sensitive information that is required sometimes; Social Security Numbers, credit card information, driver's licenses, secure notes, file attachment, and any such information. This information will be available to you from any of your devices.

Launchpad: 

Presented to you as large icons in a tab, ready to be clicked and logged in.

Password Generator: 

It gives you an option to create long and strong passwords to protect your email, social media, or any other accounts. You also get the option for the True Key app to remember them.
Pricing
Compared with other password manager software, True Key has a simplified pricing structure. As we mentioned earlier, you can download and use True Key on as many devices you want for free, but you can save only up to 15 passwords with this version.
The premium version will let you save unlimited passwords for $19.99 a year. Though, unlimited here means up to 10,000 passwords or logins.
Alternatives
Abine Blur – Great for its ability to mask a variety of secure information.
Every Key – Works with passwords as well as smart locks on your house and car.
Keeper – Easy to use and has an excellent auditing tool to make your passwords better.
Pros
It offers a free version that is fully-featured and has limitations, not in features but the numbers of logins/passwords.

High focus on multifactor authenticating for your devices such as the face, fingerprint, a second device, email, master password, and Windows Hello.

It takes absolutely no effort to use and is excellent for pro and novice users alike.

Works across most platforms, you can use it across tablets and PC/Macs and phones.
Cons
Sometimes, the software fails to capture the details accurately. It promises to rectify the problem in 24 hours, which may or may not be okay for some users.

The software is unable to fill forms using saved data, which can be a bummer for a lot of users.
True Key Password Manager Review Final Thoughts
True Key is a reliable password management platform that will help you keep track of all your login information.
Their focus on multifactor authentication makes them one of the more secure options, though this can be cumbersome when you are in a hurry to login to a new device.
The service is legit and, if they meet your needs and price range, you should feel comfortable about using them for your passwords.