Paramount+ is the latest in a line of streaming services offered through major media companies.
I signed up for an account the day before launch to bring this full Paramount plus review with all the gritty details of how it works.
What is Paramount+?
Paramount+ is the streaming service from ViacomCBS.
On March 4th, 2021, the CBS All Access streaming service went through a significant upgrade and a name change. The new service combines content from all ViacomCBS properties and is a considerable upgrade for the consumer.
It feels like the new service is designed to compete directly with Disney+.
First Impression of Paramount Plus
Paramount+ has an advantage at launch because CBSViacom has made all their mistakes with CBS All Access and Pluto TV.
This new service has a great look and feel. The menus on the app, website, and Roku channel are easy to navigate and straightforward.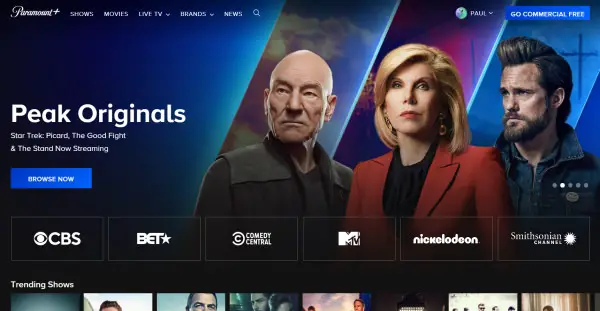 They use a "two menu" format where you can access content from a specific ViacomCBS cable channel (Comedy Central, Nickelodeon, etc.) using buttons on the screen. The standard menu at the top on a computer and the side on Roku makes it lightning quick to find the content you want.
The options include:
Shows
Movies
Live TV
News
Brands
Search
Once you click on any of these, more menu options appear to make your content search as fast as possible.
The search feature is easy to use, fast, and tries to figure out what you are looking for with only a partial word.
What is Included?
Paramount Plus isn't pulling any punches when it comes to competing with the biggest name in streaming. The service includes:
Movies
ViacomCBS dipped into the vault to give you 696 movies at launch. Paramount has been making movies since 1912, so there are plenty more for them to populate over time.
The mix is a good one, with about 10% of the movies being for kids/family and comedy being the largest category of movies.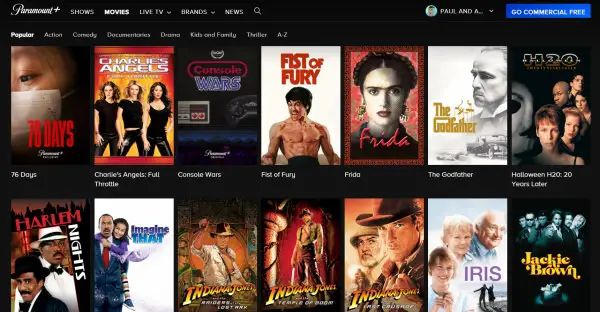 Channels
The Channels feature on Paramount+ is nice if you have specific content you want to watch that would typically appear on cable or network television.
Original Content
Paramount+ launches with 21 original series. Only three of those were not available on CBS All Access, but this is pretty normal for a new service.
The new shows are:
For Heaven's Sake (a mystery) with all episodes of season one.
Kamp Koral (a new SpongeBob show) with all episodes of season one.
The Real World Homecoming (one of the first reality TV shows)
Live Streaming
Like Peacock from NBC, Paramount plus includes several streaming channels.
Local CBS channel
CBS News Network
CBS Sports
ET Live
I will say this was a little disappointing for the launch because ViacomCBS owns so many channels. I thought they would also include live streams of BET, Comedy Central, MTV, and Nickelodeon.
While disappointing, this is more of a reflection of how Americans have switched to watching on-demand content much more than live.
Profiles
The mistake many streaming services make is not allowing for individual profiles. I do not tend to like the same shows and movies that my six-year-old watches (not all the time, at least).
And I do not want my children to have access to all the content available on any streaming service.
Not only did Paramount+ add profiles, but they also have two levels of kid mode to help filter age-appropriate content.
There is a way to activate parent mode, but I couldn't find it from my Roku interface. I was able to find it under my account settings. This setting will require a pin to access the content at certain rating levels.
The only downside to parent mode is it affects all profiles, and you cannot lock specific profiles from your children accessing them, so my kids can switch over without me knowing.
Pricing
There are two tiers of pricing for Paramount+.
Free Trial
Paramount+ has a one-month free trial for both of their pricing tiers.
With Limited Commercials
The limited commercial pricing option is $5.99 per month, and you get 15% off if you pay for an entire year ($59.99).
I decided to go with this pricing because it was significantly cheaper and to get a feel for the service.
I watched my first one-hour show, Macgyver, and there were a total of five commercial breaks. The first was right at the beginning and lasted 30 seconds. The other breaks were 60-80 seconds each and had several short commercials.
I don't consider this a bad compromise to save $4 a month.
Commercial Free
The commercial-free plan on Paramount+ is $9.99 a month, and you can save 15% by paying annually ($99.99).
Most content will be commercial-free, but you will get commercials on live-streamed content from the channels.
Compatible Devices
Since CBS All Access has been on the market for quite some time, Paramount+ got to bypass all the frustrating negotiations with the device manufacturers. The service is available on:
Roku
Apple TV
Fire TV
Chromecast
Android devices
IOS 11+
Xbox (Series S and X)
Playstation 4
Portal TV
Samsung, LG, and Vizio Smart TVs
Xfinity Flex
I expect that most devices will have easy access, so if yours is not listed, check to see if a new Paramount+ app is available.
Pros
Easy to use
Affordable
Well supported on streaming devices
Large library of content
Good live streaming options
Cons
Parental control not intuitive
Unable to lock adult profiles
Not live streaming all their channels
A Little lacking in kid movies
Alternatives
Disney+
Disney always does things at a high level and their streaming service is no different. Our Disney+ review details how this service became one of the most popular
Peacock
NBCUniversal launched their streaming service in July of 2020. In our Peacock review we show why it is solid contender and has a lot of content from across all their platforms.
Hulu
Hulu is one of the first big streaming services. Now a part of the Disney Bundle, Hulu and Hulu live are a solid addition to any group of streaming services.
Paramount Plus Review Final Thoughts
I like what ViacomCBS has done with the new Paramount+ service.
They have taken the best of what CBS All Access and Pluto TV had in functionality and built it into the new Paramount+ app.
There is also a lot of great content for all ages available upon launch, and I expect the available library to expand as the service ages, a tip picked up from Disney+ and Netflix.
If you like the properties owned by ViacomCBS or the live sports they offer, this is a very affordable service that provides a lot of value to their subscribers.