As I write this, we are in the middle of the Coronavirus pandemic and people losing money either from unemployment or lack of economic activity.
That means finding ways to save money on a tight budget is more important than ever.
Ways to Save Money on a Tight Budget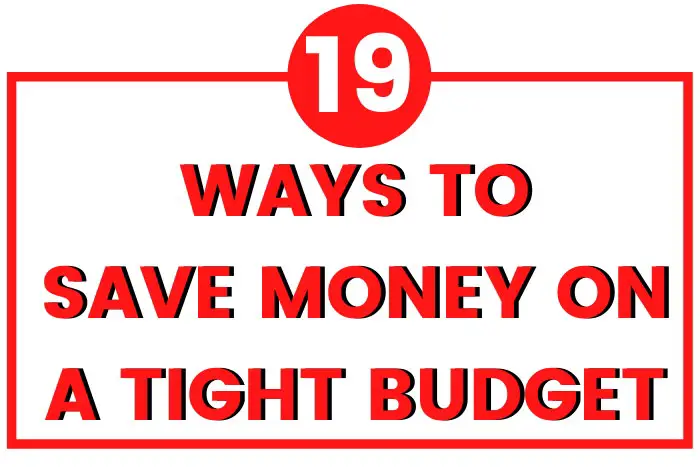 Get Cashback on Shopping
If you are shopping online and not use the cashback sites, then you are missing out on one of the easiest ways to save money.
Instead of going directly to a web page to shop, first, stop at your favorite cashback rebate app and click on their link. You will then get a percentage back on whatever you purchase.
It can add up very quickly, and the top cashback apps include:
Cut Television Service
If you are still paying for cable television and your working with a tight budget, then you are paying way too much. Instead, you should keep your internet and switch to a few streaming services for your content.
I helped my dad adjust his entire cable bill a few months ago, and he saved $100 a month and got more content than he had access to before. My favorite streaming services are:
Negotiate Your Bills
Did you get that deal with your cable company where they give you a low price for one or two years, and then it expired and jumped up to something not so good?
You can negotiate bills like this yourself, or you can let Trim negotiate for you. In our Trim app review, we detail how the service works, but it doesn't cost you any money until they save you money.
It is a simple way to save money when you are on a tight budget with minimal effort.
Gasoline Rewards
My wife drives a reasonable distance to her work each day. That driving adds up to a substantial amount of gasoline we pay for.
Even if you only use a little gasoline, you can still save money with the GetUpside App. It works by allowing you to get cashback from stations that partner with them.
There are five different stations within a few miles of our house that partner with GetUpside. We get anywhere from 1¢ to 25¢ per gallon cash back on all of our gasoline purchase (we average about 8¢ per gallon cashback).
Using our GetUpside link will get you an extra 15¢ per gallon on your first purchase that you use the app.
Do a Budget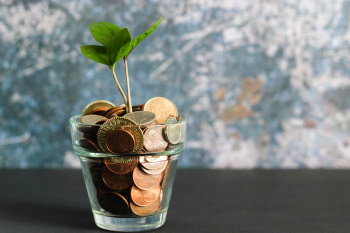 You are never going to know where you are overspending if you are keeping track of where you are spending. A budget is the only way to control our spending fully.
Learning how to budget is the first step for anyone looking to achieve financial freedom. Even if you are living paycheck to paycheck, get a budget done ASAP!
Groceries
Groceries are a significant part of every budget I have ever seen. The truth is, most people tend to overspend on food.
Look for ways that you are spending money on groceries that could be cut back. Maybe one night a week, you do a meal that does not contain meat. Or switch to a discount grocery store like Aldi.
It could be as simple as using the cashback apps we listed above to shop online and get curbside pickup instead of going into the store. I have seen this cut way down on grocery spending because you do not walk the aisles and pick up extra stuff.
Finally, you can try using grocery coupon apps to help you save. Instead of clipping coupons, you just select the coupons you want in the app, buy your groceries, and then scan the coupon in.
Money gets deposited into your account automatically. The top coupon apps I am using right now are:
Cash Envelopes
Since we are already taking a hard look at groceries, lets cut down on all other spending that has the possibility for overspending. Cash envelopes can make sure that you do not overspend on any one category.
When Amy and I switched to cash envelopes, we were able to cut $300 a month of extra spending. We had no idea that we were overspending on groceries, restaurants, and various other easy to overspend categories.
Check your budget and look for areas where you could switch to cash because you cannot overspend cash.
Cut the Utilities
Utilities can take a little effort but can have a tremendous money-saving impact. Whether you sleep in the winter with an extra blanket or get a smart thermostat so that the temperature automatically adjusts for you, there are many ways to save on utilities.
I just turned the temperature down on my water heater. It still gets a pleasant temperature, but only when I turn the knob up to full heat.
I did this to save money, and because my five-year-old is now insistent that she turns on her bathwater and gets started without us. Not only do I save money on my natural gas bill, but I avoid a hospital visit.
Paribus for Price Matching
I love that stores will price match almost anyone if you can prove the price difference before the end of the return policy.
I hate going and looking for prices that are lower than what I paid. This is especially true since I usually get an excellent price on most things I buy.
Paribus takes all the busy work out of price matching. Once you register, it will monitor your email for purchases, they go out and do all the price matching for you.
If they find a better price, Paribus keeps 25% of the difference. Everybody wins!
No Cost Activities
Being in the middle of the COVID-19 pandemic, all of our normal paid for activities have been canceled. This has given us an opportunity to find free things to do that allow us to stay safe while also getting my wife and kids out of the house.
While state parks are currently closed in my state, they usually present a great way to get outdoors. My family also loves the National Historic Parks that allow us to get passport stamps.
Right now, we have been finding wilderness areas to go to that are pretty remote. This allows us to get out into nature, enjoy time together, explore waterfalls and other natural wonders, and still keep our distance.
It has been great for the kids and us.
Check Groupon
Groupon started as a way to get steep discounts at local restaurants, retailers, and activities. It has morphed into a place to buy services and products, both local and national, for very good prices.
We use Groupon for all sorts of services around town. This includes activities, oil changes, beauty purchases, and much more.
We recently bought a laser tag outing for the whole family with $100 in arcade game credits for $32. If we were to pay full price for just laser tag, it would have cost us $40. That's a lot of extra fun.
Shop Your Insurance
Insurance is one of those things that nobody wants to pay for, but we all need it. No matter what types of insurance you have, you should always be wary of the rates slowly getting higher on you.
The primary insurances you want to shop are auto insurance and homeowners. These should be shopped every two years with an independent agent.
If you have not shopped your insurance in the last two years, get new insurance quotes to see if you can get some immediate savings into your tight budget.
Restaurant Discounts
Restaurants offer discounts all the time. Traditionally, you found the promotions in newspapers and printed flyers.
With everything going digital, you can now check individual restaurant apps for deals at your favorite restaurants. I keep a variety of fast food and nicer restaurants that we like.
We also use gift certificates from Restaurant.com so we can support our local restaurants while trying out different cuisines.
I have averaged saving $2 per person at the restaurants we frequent the most.
Kids Eat Free Nights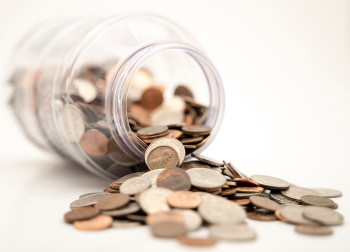 There are a ton of restaurants that have nights where kids eat free or almost free. Most times, your child will need to be 12 years old or younger, and there is a requirement that you get one free kids meal for every adult meal you choose.
Having three kids, I can pay about the same amount to take my family to eat at a mid-level restaurant as we do for fast food.
Check for Fees
Fees are hiding around all over the place. Whether it is with your bank, insurance, or credit cards, make sure you are not paying unnecessary fees.
Most of these service fees can be waived, or a competitor is willing to give you the same service with no fees.
Buy Used
We have saved so much money buying gently used items. The crib we used for all three of our kids would have cost us $400, but we got it with a bunch of other things for less than $200.
We also buy a majority of our clothing used. It is surprising how many items we have been able to get that look like they have never been worn (some even still have tags).
For clothing, we usually do price comparisons of Poshmark vs. Mercari while we use Facebook marketplace and Craigslist for items we feel more comfortable buying locally.
Make the Most of Extra Paychecks
Both Amy and I now get paid monthly. This makes budgeting much easier, but it doesn't give you the same opportunity that getting paid weekly or bi-weekly does.
For those who do get paid every week or every other week, take advantage of those magic months where you get an extra paycheck to get caught up and put extra money away.
Refinance Debt
Debt can be a significant drain on your finances, especially when your budget is tight. If you have any high-interest debt, then refinancing to a new loan or surfing to a low-interest credit card can make a big difference in your monthly bills.
Whether it is a car loan, credit card, or mortgage, today's low-interest environment can get you out of that bad debt and into more manageable payments.
Get Rid of Debt
Even lower interest debt comes with payments. Once you get those payments as low as they can go, dedicate yourself to getting that debt out of your life.
A way to motivate yourself is to put together a list of all the debt payments you are making each month. Add those payments up and see how much money you would have in your budget if you didn't have debt. It's eye-opening.
Unfollow Bad Influences
There are tons of people pretending to "lead the good life" online.
If you have a particular friend or personality that is constantly posting pictures of awesome things they are doing or buying, you need to block their images and posts so you can live the best life you can.
Start Side-hustling
There are always two numbers that affect your budget, the income, and the outgo. If you have already cut your outgo as much as you can, then the only thing you can do is raise your income.
The ways people can do this depends on their skills. If you are looking for a quick side hustle, then I would try get paid to programs. My favorites are
Strategy for Implementing Money Saving Ideas
That list can feel like drinking from a fire hose. When implementing new habits, it is important not to try to establish too many at one time.
The way I would handle this is to focus on getting set up with programs that can save you money with a tight budget that do not require much effort. So Trim and Paribus are easy wins that can help quickly.
I would then work on one new habit, like using cashback rewards sites to save money with my online shopping. Learn everything you can there and then move on to the next habit.
Before you know it, you will be using ten of these ideas, cutting your costs, and making your budget less tight.
Final Thoughts on Saving Money While on a Tight Budget
No matter how big or small your budget is, it always feels like small extra expenses creep into our spending while we aren't paying attention.
I know that there are a few items on here where my wife and I live the right way, but we need to clamp down on the kids.
Find the ones that you are most comfortable with and get that tight budget a little looser so that you can accomplish your financial goals.