Lowes is our favorite home improvement store in the United States. I swear I cannot get out of there without spending $100.
It was an amazing day when I figured out how to get free Lowes gift cards. When I say "free", I really mean getting gift cards for doing things I was already doing or with almost no effort.
In this guide, I will share the various methods I use to score free gift cards to Lowe's.
Ways to Get Free Lowe's Gift Cards
Online Shopping
These days, almost everyone shops online. Even my tech-averse mother buys items off of Amazon and Walmart.com. So, why not take advantage of online rebates while shopping?
Cashback rewards websites offer rebates when you use their portal to visit your favorite online retailers.
Instead of going directly to the store's website, go through the cashback site first and click on their link to your preferred store. Shop as usual and receive rebates ranging from 1% to 25% cashback.
The rebates for shopping online with Lowe's are typically around 2%.
Some top sites for cashback rewards include:
Grocery Rebates
While you can still use traditional methods like clipping coupons from the newspaper or printing them on your computer, using grocery rebate apps is much easier.
These apps allow you to select rebates on your phone before or while shopping. You can sync the app with your customer loyalty cards or scan your receipt into the app after making a purchase.
This is one of the easiest ways to earn free Lowe's gift cards with minimal changes to your routine. The top grocery coupon apps are:
Gas Rebates
The Upside app offers one of the easiest ways to earn free gift cards through gasoline rebates. Instead of filling up at the nearest or cheapest gas station, check out gas stations that partner with the app.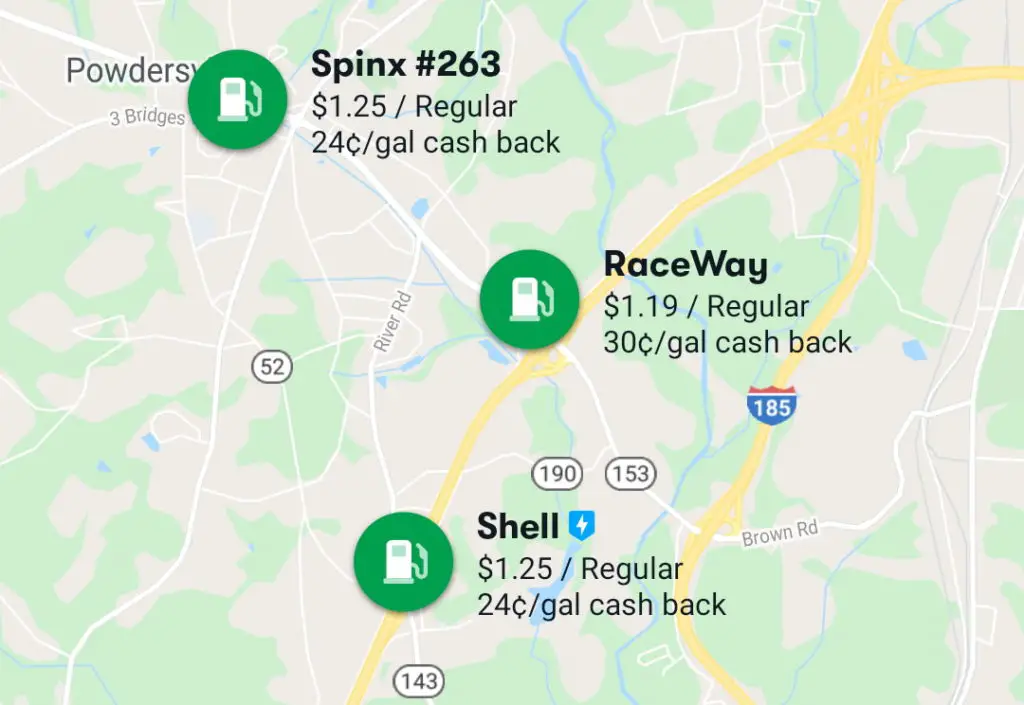 Once you find a station with the lowest price after rebate, claim that offer. After filling up, scan your receipt into the app, and the rebate will be credited to your GetUpside account.
You can cash out to various e-gift cards, including Lowe's. Gas rebates typically range between 5¢ and 25¢ per gallon, but they can go as low as 1¢ or as high as 30¢. Check out my detailed Upside app review for more information.
Lowe's Promotions
Like most big retail stores, Lowe's frequently runs promotions that offer gift cards for making large purchases.
When we moved into our current home, it needed all new appliances. We found a great deal at our local Lowe's, where all the appliances we needed were on sale. The more appliances you purchased, the more Lowe's gift cards you received as a rebate.
In the end, we purchased more than $3,000 worth of appliances for just over $2,000 and received $600 in Lowe's gift cards. Keep an eye out for promotions like these to earn big-time free gift cards.
Watching Online Videos
I can remember thinking that nobody is going to pay me to watch videos, but some rewards sites will pay you for doing just that.
The videos are not going to be the most entertaining and are often geared toward getting you to buy things. Still, I can roll through these videos on my computer while watching more entertaining content on my television.
You can earn gift cards for watching videos on sites like:
Reading Email
Getting paid to read emails has been around for more than 20 years. Which means I have been doing it for more than 20 years.
The rewards are not a lot, but it is something you can do to earn bonus points while binge-watching another show on Netflix or Disney+. Some top sites that pay you to read email are:
Playing Games
I grew up in the 80s and 90s, so video games were a part of life. Learning that I could get rewarded for playing video games seemed like something right in my wheelhouse.
With most programs, you get rewards for each dollar you spend inside of a game, but there are always a few games in each program that pay you just for playing. Just be aware of the rules for getting paid, and you can earn a free Lowe's egift cards for having a little fun.
The top get paid for gaming sites are:
Cashback Credit Cards
I am not a big fan of credit cards unless they are going to pay me for using them. Most rewards credit cards allow you to cash out to gift cards or an account credit.
The best way to earn with these cards is to get one that specializes in a specific type of spending you do a lot. For example, we have an American Express card that gives 5% cash back on gasoline purchases and another that gives 2% cashback on everything.
We use the gas card when filling up and the other card for everything else. This maximizes our cashback and keeps the free gift cards flowing.
Taking Surveys
Taking paid surveys requires a little more effort than most of the other times on this list, but they can pay anywhere from $0.50 to $50 each, so they are a good source of free money. Every one of the paid survey sites I frequent has the option to cash out to Lowe's, making this an easy way to earn more gift cards.
The top paid survey apps include:
Stack Your Earnings
Each one of the above ideas can create a nice stream of gift cards to Lowes. However, to get the most out of your gift card earning time, you need to stack the rewards as much as you can.
In the example above, where I purchased my appliances and got $600 in Lowe's gift cards, I also made the purchase online using TopCashBack, which gave me 2% cashback for my purchase. I also used my 2% cash back rewards credit card.
If I spent $2,000 out of pocket, that is another $80 in gift cards I pocketed with almost no effort.
The same goes for when I get gasoline. I use my gas credit card rewards card to pay for the gas and get 5% cashback. Yesterday, I claimed a 20¢ per gallon rebate with GetUpside for gasoline that $1.49 per gallon and filled up with 20 gallons.
If you do that math that comes out to $4.00 from GetUpside and $1.49 to my rewards card balance. Not a bad haul for $29.98 in gasoline.
Keep stacking your rebates and cashback, and you will generate more gift cards than you thought possible.
FAQs
How can I find out about special promotions of offers that allow me to earn Lowe's gift cards?
The best places to look for Lowe's promotions is to subcsribe to their newsletter and promotional emails, follow them on social media, check the weekly advertisements, and visit the website on a regular basis.
Can I use multiple Lowe's gift cards on a single purchase?
The only time you might have difficulty using multiple gift cards is when you make an online purchase. If you are purchasing in-store, then just keep presenting the gift cards until you use them up or finish the purchase.
Are there any restrictions or limitations on using Lowe's gift cards?
In general, Lowe's treats their gift cards as cash. That means they can be used on the purchase of products or services at any Lowe's store or on the Lowe's website. To make sure, check the terms and conditions on any gift card or Lowe's egift card to be sure there are no specific limitations.
Can I earn Lowe's gift cards by referring friends and family members to shop at Lowes?
On occasion Lowe's will run a referral program that allows customers to earn gift cards from encouraging friends and family to shop at Lowe's. The best way to know when this happens is to check the website or subscribe to Lowe's promotional communication.
Can I exchange unsued gift cards for Lowe's gift cards?
Yes, many gift cards can be exchanged for a Lowe's gift card through gift card exchange websites. You do this by selling your unwanted cards and using your balance to buy discounted Lowe's gift cards.
What are tax implications when receiving Lowe's gift cards?
As a general rule, gift cards are not considered taxable income. There may be some tax implications if you receive gift cards through a work-related program and they are considered a form of compensation. If you have any questions you should consult a tax professional who can answer questions about both federal, state and local tax laws.
Final Thoughts on Getting Free Gift Cards to Lowe's
I love getting free things. Many times I will take something free even if I do not need it because I am sure I can find some use for it.
With free Lowe's gift cards in my pocket, there is always something we need for around the house. Whether it was the cement, we purchased to put in the kids' basketball goal, more plants for the yard, or a new Shop-Vac because the old one bit the dust, Lowe's has so much that we can use in our daily lives.
If you are like us, then finding ways to get free gift cards to Lowe's can make a big difference in your home improvement budget. If Lowe's is not your deal, there are plenty of free gift cards you can choose from with most of the options above. Some of my favorite alternatives are:
No matter what your favorite retailer, gift cards make shopping for what you need and want easier.