Being able to invest $200,000 will get you a ton of attention from financial advisors and CFPs.
The truth is you can save yourself the fees of a personalized investor by doing the investing yourself.
The good news is, with $200k to invest, you have a lot of options to diversify and make sure your investments grow.
Ways to Invest $200,000
Betterment
Betterment has established itself as one of the most popular robo-advisors in the United States.
Instead of paying an individual CFP 1% of your assets each year, you can let Betterment do all the investing for you for only 0.25%.
The risk level Betterment takes is determined by a questionnaire that you fill out when you sign up. It makes diversifying across stocks and bonds simple and even takes care of reducing your tax burden.
Fundrise
Fundrise allows you to diversify into real estate without managing the investments yourself.
Fundrise works by allowing anyone to invest in real estate investment trusts by depositing funds into an account, and having the trust managers make all the real estate investments for them.
This pooling of money allows Fundrise to invest in much larger properties with better returns on investment than the average individual would make on their own.
WorthyBonds
Worthy Bonds is a way to diversify into loans that go to businesses.
When you deposit your money into a WorthyBonds.com account, that money is then loaned out to small businesses who are taking out a secured loan.
The loans are secured by some asset, like company inventory. The amount of money loaned out never exceeds 80% of the value of the assets that secure the loan. So you can be sure you will get your money back even if the loan defaults.
Brokerage Account
Stocks and diversified funds are a great way to invest a portion of your $200,000.
Your choices with a brokerage account include investing in:
Whether you choose to research and invest in individual stocks or want a broad portfolio of ETFs and mutual funds, Ally Invest is going to give you the best tools and lowest fees.
Real Estate
Doing your own real estate investing can be personally and financially rewarding.
Depending on what market you want to invest in, a $200,000 investment in real estate could pay for several properties for flipping or income properties.
Savings Account or CDs
A certificate of deposit is known to be one of the most low-risk investments available.
Historically, you lock your money in with a bank for a certain amount of time, and they give you a low but decent interest rate.
High-interest savings accounts have made it so that CDs are not as popular as they once were. The high yield accounts get close to the same interest as a CD without locking in your money.
CIT Bank has recently offered a no-penalty CD, and you can see their rates HERE and compare them to the current high-interest savings account rates below:
Bonds
Bonds are a form of debt that you invest in. This can be to a government institution (Federal, state local) or a corporate entity.
The rates are usually set over a specific term and are considered a safer investment than securities.
Retirement
Retirement accounts can include any of the investments you see above but come with the added benefit of avoiding taxation.
There are limits to how much you can put in each type of retirement account, and $200,000 to invest may keep you from being eligible for some accounts.
However, wherever you can maximize your tax savings now will pay off big in the long run. Some of the most popular retirement accounts include:
Payoff Debt
Debt is a killer when it comes to your net interest. If you are carrying any high-interest debt, it will devour any interest you earn through the investments on this list.
On top of that, debt comes with a liability that you have to keep paying each month. Getting that stress out of your life will free you up to make much better decisions going forward.
Education
Education can be something traditional, like college courses or some certification, or it could be online classes, a mastermind group, or some paid mentoring.
If you can expand your knowledge in an area that produces new income for you in the future, then education is an excellent way to
Annuities
Annuities are one of those investments that many personal finance people don't like.
They offer you guaranteed income for the rest of your life, but the money does not pass on to your heirs. If you are looking to have guaranteed income and create a sort of pension for yourself, then annuities might be an excellent way to go.
P2P Lending
Peer to Peer lending got rolling about 15 years ago. Sites like LendingClub made it so that an individual could fund part or all of loans to other individuals.
Once again, this is an investment in other people's debt and can yield decent returns. LendingClub lets you invest as little as $25 into a loan. LendinClub allows you a sizeable diversification with only an investment of $2,000 or more.
Cryptocurrency
Cryptocurrencies have been a hot topic for investors and techies alike. The technology is fascinating and has the potential to make significant improvements when it comes to identifying counterfeit products.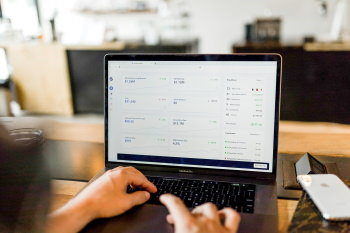 The problem is we do not know precisely where crypto is going a far as a longer term investment, so the risk could be pretty high. If you are willing to research the different coins, then this is an area where you could make a lot of money, or lose it.
The top crypto exchange in the United States is Coinbase. They simplify the process of purchasing and provide a lot of education.
How I Would Invest $200k
One of the principles I live by is that we can all learn from each other. I have a pretty high-risk tolerance, but with $200,000, I would want to diversify my investments, and this is how I would do it:
Betterment ($40,000)
I love having a lazy portfolio mentality, and Betterment is the king of lazy investing. Put money in and let them handle the rest.
An investment of $40,000, or 20% of my portfolio, makes sense here.
Fundrise ($30,000)
Fundrise gets me out of stocks and into real estate without having to do any of the property management myself. Once again, the lazy portfolio mentality weighs heavy with this $30,000 investment.
Brokerage Account ($20,000)
I am not a big investor when it comes to individual stocks, but picking a few ETFs to put 10% of my portfolio is appealing.
By using Ally Invest to invest $20,000, I can get into several ETFs and diversify my market exposure.
P2P Lending ($10,000)
I used to be a big believer in peer to peer lending. I still believe you can make decent money here, but the management has gotten more difficult recently.
A $10,000 investment that I can set on auto-pilot is all I am willing to make with LendingClub at this time.
WorthBonds.com ($50,000)
I always want to have money on hand that can be ready for the next investment opportunity that pops up. This means I need to look at short-term investments that hedge against inflation.
WorthyBonds allows me to get a 5% interest rate with almost no risk. Invest $50k here, keeping it liquid, and being ready for a deal down the road makes a lot of sense.
Real Estate ($60,000)
Real estate is relatively inexpensive in my area. This means I could probably get mortgages on two fixer-uppers, do the repairs and have them for rental properties by investing $60,000 or less.
Investing 200,000 Dollars Final Thoughts
Investing $200,000 is a big responsibility, and none of us want to screw up and lose that amount of money.
Whether you are new and investing $1,000 for the first time, or you are experienced and have invested $100k several times in your life, the most important details to remember are to be comfortable with your investments and to diversify.
This way, you always know what you are doing, and if anything goes wrong, your whole portfolio does not go down with a single bad investment.