Having $4,000 to invest is a great feeling and comes with many options.
A $4,000 investment takes you over a threshold that opens up many types of investments to which smaller amounts of money do not have access.
As we look at how to invest 4,000 dollars, we will go through your different options as well as a scenario of diversifying your investments so you can spread out the risk.
Ways to Invest $4,000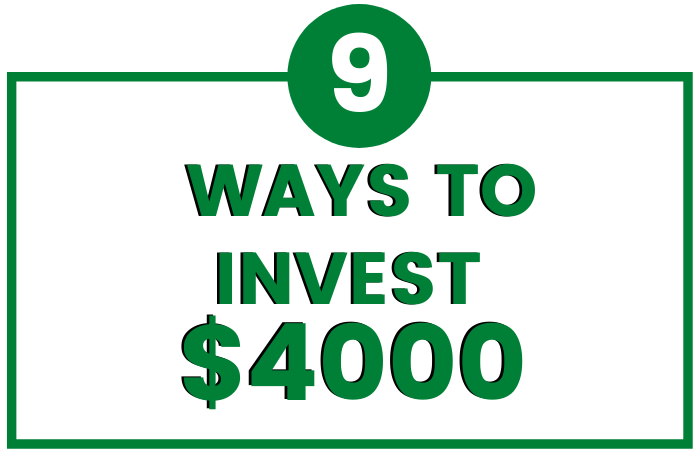 Betterment
Betterment provides a hands-off way to invest while making sure regular maintenance on your investments happens.
In my Betterment review, I discuss how this robo-advisor works automatically to rebalance your portfolio and reduce taxes.
When you sign up for Betterment, they give you a short series of questions to determine the amount of risk you want to take in your investments and then handle all the investing for you from there. It is one of the easiest ways to invest in the stock market.
Fundrise
Fundrise makes investing in real estate much simpler. Instead of having to do the buying, fixing, maintaining, or renting of properties, Fundrise does it all for you.
They give you access to their real estate investment trusts, which pool the money from many investors to do real estate investing for the group. The trust manager and their team take care of all the investing, and we deposit money into the account.
In my Fundrise review, we get into more details of how their platform works. In my opinion, it is the easiest way to invest in real estate.
Worthy Bonds
Worthy Bonds is another way to diversify your investing by purchasing the debt of small businesses. The bonds they issue allow small businesses to overcome short term cash flow problems, and a physical asset backs them.
Having an investment backed by a physical asset means that, if the business were to default on the loan, Worthy would seize the assets, sell them off and refund the investors' money. In exchange for your investment, you get a flat 5% interest on the money you deposit.
5% is an excellent return when you compare it to where other low-risk investments are right now.
ETFs
Exchange-traded funds (ETFs) are an easy way to invest in a large number of stocks or bonds. They are purchased and tracked just like a share of stock would be through a brokerage.
Right now, my favorite brokerage for ETFs is M1 Finance. In my M1 Finance review, I cover how the platform works, but the most important features are that all ETF trades are free and that you can purchase fractional shares or small pieces of a single stock.
Savings
Having an emergency fund or keeping a little money aside for future investment is a great way to set yourself up for success. However, I don't want to keep my money on the sideline doing nothing.
Some savings accounts offer higher interest rates than you can get with your local bank. The most recent interest rates are:
Stocks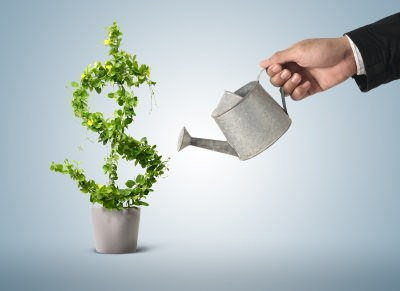 Making your own stock picks can be an excellent way to invest. Stocks are riskier than many of the other investments on this list, but they come with significant upside if you become good at it.
With only $4,000 to invest, I would not put a major portion of my investments here, but a smaller percentage to help you learn how to trade stocks. Once again, I would look at M1 Finance since they offer fractional shares and zero trading fees.
Mutual Funds
Mutual funds are one of the best ways to diversify your portfolio. Not only can you choose index funds that cover large parts of the stock market, but there are also other types of mutual funds that invest in bonds and mixed investments.
With a $4,000 investment, most mutual funds will be available to you.
Retirement Account
I put retirement farther down this list because a retirement account is simply a way to shield the above investments from taxes.
With traditional accounts you do not pay taxes on money you put into the account, the money grows tax free, and then you pay income taxes on money you take out.
With Roth retirement accounts you put the money in after you have paid taxes, it grows tax free, and then you do not have to pay any taxes when you withdraw. The most common retirement accounts for individuals and small businesses are:
Charity
Charity is an essential part of my family's financial plan. Even though it may not feel like an investment, making charitable giving a priority is an investment in whatever you are giving toward as well as yourself.
When we give, it puts our ambitions, plans, and fears into a larger perspective, giving us a broader view of our world.
Debt
Paying off debt is not the sexiest investment you can make, but if you have high-interest debt, it may be the smartest.
For example, let's say you have a standard credit card that carries a balance of $1,000. If the interest is 20% or higher, there is no way you are going to make up that interest with normal investments.
Cryptocurrencies
Cryptocurrencies are becoming more mainstream as a technology and have piqued the interest of investors. It is a difficult concept to wrap your head around, but taking the time to understand crypto and how to invest in it is worth the time if you are interested.
Currently, my favorite exchange for buying and selling crypto is Coinbase. They are based in the United States, and there is some government oversight on their operation.
How I Would Invest $4k
All these options seem great, but how do you choose? The answer is dependent on how you, as an investor, want to approach your 4,000 dollar investment.
Here is how I would invest my $4k.
Charity ($400)
Every month 10% of my gross income goes to my local church. This is non-negotiable for my family.
So, if I have $4,000 of money that has come to me, I will be investing $400 into my church. The money goes toward staff salaries and a lot of ministries, like buying shoes for kids who cannot afford them and helping local homeless structures.
Betterment ($500)
I cannot resist putting money in a place where I don't have to manage it. Betterment makes investing so easy that it is a no-brainer to invest $500 here.
I would typically do more, but Betterment is mostly stock market investing, which I will be doing more of farther down this list.
Fundrise ($1,500)
Diversifying into real estate spreads out the risk from the stock market. Making an investment of $1,500 into Fundrise will get me into some of their better REITs and protect my portfolio.
Worthy Bonds ($1,000)
The concept and platform that Worthy Bonds has created is impressive. It's hard to find a flaw in their plan, and, after meeting with a member of their team in person, I believe this one is a long term winner.
The other reason I like Worthy is that the money is 100% liquid. So I can use them as a place to earn money while I wait for another more lucrative $1,000 investment to come along.
ETFs ($300)
While I like Betterment, I am in the process of teaching myself how to make my own investment decisions. Researching ETFs has been a great way to get started making personal picks, and this $300 investment will allow me to expand my knowledge.
M1 Finance and their fractional shares would allow me to purchase into several different ETFs without having to worry about the share price.
Stocks ($200)
Picking your own stocks is part science and part art. It takes time and discipline to learn both sides of that equation.
Once again, I will be utilizing M1 Finance for this $200 investment because of the ability to buy fractional shares with no trading fees.
Crypto ($100)
There are hundreds of cryptocurrencies out there now. Most are not worth your time, but there are several that we should be exploring as an investment.
I am not confident in how to invest in crypto, so I am only going to invest $100, but that $100 should help with my learning curve and give me the first seed money to see some profit. I already use Coinbase as my preferred exchange.
Final Thoughts on How to Invest 4,000 Dollars
Investing $4,000 doesn't have to be complicated or make you afraid. The most important thing to remember is to diversify your investments as much as possible.
In my example investments above, you can see that I spread my investments out among stocks, corporate debt, real estate, and crypto. I put more money into the items where I feel the most comfortable and less in areas where I am still learning how to invest.
If you take this approach and invest when you understand the investments, it is going to be hard to make any significant mistakes. Now get investing and turn that investment of 4,000 dollars into a $100k investment or more.