Have you ever wished you could get at least some, if not all your earnings, doing nothing? The generation before you might not have believed in this, but today, there are hundreds of passive income ideas for making money after you have the ball rolling.
You'll be surprised to see the kind of money people are making with ad revenue on their blogs, or from their social media channels.
Passive income is a great way to make a little more money each month. Even if you wanted to turn a blog into more than just passive income, for example, you'd have to do a lot more than just have ads.
But if it is passive income you're looking at, here are some wonderful ideas to get you thinking and making money in no time!
High Yield Savings Account
There isn't a more simple or low risk investment than a savings account. You put money in and the bank pays you a little interest for having access to your money to make loans.
The problem with your traditional bricks and mortar banks is that the interest rates you receive are anemic, at best. That all changed when online savings accounts hit the market.
Instead of taking on all the overhead of running bricks and mortar branches, online banks allow people to place their money in FDIC insured account but get interest rates more than 100x greater than the traditional savings accounts. Some of the most competitive rates include:
Crowdfunded Real Estate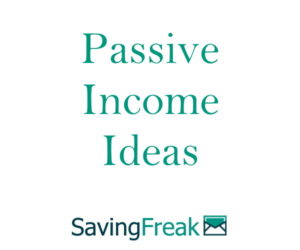 If you do not have the resources to make a rental purchase then you can get started in crowdfunded real estate for as little as $500.
Fundrise allows you to be an investor in their real estate investments in their starter portfolio. You simply invest your money with Fundrise and they will take it and invest in large real estate projects.
If you have more than $500 then you can get involved Fundrise has larger and better portfolios, but either way, you can get in on real estate investing without the hassle of actually managing the property.
Dividend Income
Dividend paying stocks are a great way to create a nice passive income. Instead of worrying about the price of the stock itself, you look for stocks that pay a percentage of their value out to their owners each year or quarter.
The great news is that high yield dividend stocks are not difficult to find. You can find them through research in online brokerage accounts My three favorite for this purpose are:
M1 Finance – There are no trading fees for M1 Finance, though they only let you invest in select stocks and ETFs.
Ally Invest – Once known as Trade King, Ally Invest has super low fees and great research tools.
TD Ameritrade – A long time part of trading, TD Ameritrade has a bunch of ETFs that are free to trade and focus on dividend investing.
What you are looking for is a stock that has paid out a dividend of 4% or more over a very long period of time. Each time it pays out the dividend you can either cash out, or you can use the dividends to buy more dividend producing stocks and create and awesome snowball effect till you get to retirement.
Get Paid for Buying Gasoline
You can actually get paid when you buy gasoline. You need three different tools to make this happen. The first is a credit card that pays you cash back for your gasoline purchases.
I have a card through USAA that pays me 5% cash back on my gasoline purchases. That's a pretty easy way to make money on purchases that I have to make every month.
Next you will want to sign up for two apps. The first is Get Upside. This awesome app syncs with the gasoline credit card we mentioned above and gives you more cash back when you snap a picture of your receipt. You get up to 25⊄ per gallon back on gas and food purchases.
Finally you want to sign up with the Fuel Rewards Network. This is a network that is run by Shell Gasoline stations. You get cash back whenever you fill up at Shell and when you sync your credit card and make certain purchases. The best part is it works simultaneously with Get Upside.
CD Laddering
For over 10 years interest rates have been historically low, but as the interest rates creep back up, CD laddering with high interest CD accounts is becoming a more viable option.
The way a ladder works is you take your investment and split it into five equal pieces. You then use each piece and buy a different length CD each a year longer than the other (1 year, 2 year, 3 year, 4 year, 5 year).
Now that interest rates are getting somewhat back to normal, you can get slightly better interest the longer you commit to keep money in a CD. As of this writing you can get a 2.7% annual interest from a 1 year CD and 3.1% annual interest in a 5 year CD.
Each year, as your CD matures, you will take the cash out and buy a new 5 year CD. You can either keep the interest or reinvest the income into your new 5 year CD to grow your investment.
Index Funds
One way of getting more income, is to use your existing income. But of course, you know this – that money invested is money earned. However, if you're one of those who feel like investments are only for the rich and wealthy, or if you're scared of the risk that they come with, here is an investment idea that's perfect for you.
Index funds or exchange-traded funds (ETF's) are a great alternative to dividend investing, are ideal for those who don't have the time or energy to deal with stocks and mutual funds. If you're looking to keep some money trickling in, index funds and exchange-traded funds (ETFs) are a safe, no-risk approach since they both monitor specific returns of a market index. Surprisingly, for low-risk strategies of passive income, both index funds and ETF's have pretty good returns too.
P2P Lending
Whether you look at investing in small businesses, or joining a peer-lending platform, lending your money to a business or an entrepreneur in need is a great way of letting the interest roll in, or accrue on a quarterly basis.
While it's true that you would need to have a significant amount of money to loan to someone, you will definitely make a lot more in return when you factor in the high-interest rates that are also controlled by you.
The top platform currently is LendingClub. You only need $25 invest in a single loan. I started with $500 so I could invest in 20 loans to start and diversify any risk of someone not paying.
Rent out Your Vehicle
Whether you have a spare car, or a truck, there are so many platforms that let drivers hire vehicles from owners, be it Uber or HyreCar. You simply need to maintain your vehicle in good condition, and you'll stand to make money even without driving the car yourself. How's that for one hell of a ride?
If you have a bigger vehicle, you could consider leasing it to a commercial service provider, such as logging or hauling companies.
Get Out of Debt
It may not feel exactly like income but debt is like having reverse passive income. If you are paying 10%, 15%, 20% or more in interest payments you are getting financially killed by your debt.
Paying off your debt will mean you no longer have that giant sucking sound hammering away at your bank account month after month. It will not be like having new money come into your account every month, but it will stop the bleeding, which is the first step to true wealth.
Create A Blog
If you love writing and have an existing blog, all you need to do is enable AdSense and display the ads on your blog. Depending on a pay-per-click or per-thousand deal, you could get a decent sum of money from blog ads.
You can even consider writing advertorials, and collaborate with brands to have their products or services featured on your blog, and get paid by them as well.
This is not a quick win. You will have to work hard to build an audience and gain trust with a decent size group of people, but once you reach that turning point, generating passive income with a blog can be a highly lucrative endeavor.
Rental Property
This is the kind of advice you might have gotten from an older uncle about buying a new property. If you aren't going to occupy it, might as well make some money from it.
With real estate prices soaring, not everyone can afford to own a house, and thanks to the millennials who are forever shifting homes, there is no lack of tenants. So if you were smart enough to buy an apartment when buying a house was still well within reach, it's time to turn that into a pot of gold.
Provided you fix a smart rent price, and make sure your space is always occupied to its optimum capacity, you can be assured that you will retire early enough to reap the joys of all those earnings. Basically, your rent or your regular income – whichever is good enough to take care of your expenses, the other can be set aside as savings or invested, making sure you have enough to live comfortably.
Sell Stuff Online
If you have a blog, turn it into an e-commerce platform. Lots of food bloggers have turned their blogs into these cool sites where you can buy everything from organic cooking ingredients to equipment and they've partnered with brands for the same. Not only does this mean you'll get paid by the brand for hosting their products, you could also stand to make money each time the brand makes a sale through your blog.
Other examples would include selling e-books or other informational content, as well as sharing your audience database with brands to help them improve their reach. Either way, selling stuff online is a great way to make some money on the side.
Cashback Shopping
Shopping online has become the main way that people make purchases that do not have to be there the same day. What if you could take your typical online shopping and turn it into a form of passive income?
Cashback rebate sites make it very simple to get paid for the shopping you do online. You simply visit your favorite rebate site and click on the link leading to the retailer where you are going to be shopping.
You then get a percentage back on whatever you purchase. The amount varies by which store you shop at, but I frequently get 3% or more in cash back and some smaller online retailers offer up to 20% cash back.
My favorite cashback site is TopCashBack.com, because they consistently offer the best rates. You can read more about them in my Top Cash Back review.
Start or Buy a Business for Someone Else to Run
You will want to work in the business so you know all the ins and outs of what makes it run. After that, you can hire a manager to taker care of the day to day processes, while you only worry about whatever you want to do in that business.
This can be anything from a retail store to vending machines, but any business can eventually be turned into a source of passive income.
Develop Plugins and Widgets
If you're a geek who loves tinkering with code, self-hosted WordPress allows you to develop plugins that you can actually turn into a profitable product when you launch them for profit.
Each time someone downloads the plugin, you can charge the users a one-time download fee or a recurring subscription fee.
Start a YouTube Channel
If you possess a skill of any kind – be it cooking, yoga, crafting, or are just a cleanliness freak who can come up with all sorts of ingenious ways to organize and clean a house, do yourself a favor and start a YouTube channel.
There are dozens of ways to monetize your YouTube channel too – once your content starts making money, it'll keep rolling in, and as your channel grows in viewership, you could also look at collaborations with bigger brands who will also be willing to shell out more money.
There are YouTubers who have made millions in less than five decades, and even if that's not what you're aspiring for, you'll still end up making some money through AdSense and other minimal efforts.
Turn Your Property into an AirBnB
Let's say you bought a lovely beach house, or cottage in the woods, but don't know what to do with it anymore because you barely have the time for luxurious weekends. You're sitting on a dead asset that is also becoming a liability because you feel the need to maintain it each time you go.
Now imagine this – every other weekend, you have guests visiting your property. They like the fact that it has a home-like ambiance and isn't a hotel. And they pay you for staying in your house, at a rate you've fixed.
If your place isn't the kind that someone would want to rent out as permanent accommodation, you could turn it into a rustic, cozy homestay. More and more travelers seek experiences that are home-like and websites like AirBnB are a great way to do this since your bookings and payments are taken care of.
What's more, they will also figure out a way to make your place look pretty and warm, as well as let guests write testimonials so that you keep getting regular business.
Create Downloadable Art
If you're a graphic designer or a visual artist, you could create and upload artwork in the form of blog themes, templates, even design vectors for other designers and illustrators to use. While it's a great idea to make some of these free for use, you might want to identify the most frequently searched/downloaded pieces of your work and assign a cost to them.
This way, each time someone downloads it, you get to earn some money on the side. Stock photography and art platforms are a great place to put up this stuff since they see a lot of traffic from artists and illustrators.
Use Less Electricity
These are only some of the ways of generating passive income. Once you do a bit of exploring and studying, you'll be able to come up with a combination of ideas that let you earn a steady, constant stream of money.
This will allow you to focus on your full-time job or venture, leaving you with enough money to get on by even when you choose to invest your earnings in more serious kinds of investments.
Bottom Line on Passive Income Ideas
No matter which way you look to increase your passive income, the most important thing to do is get started right now.
These ideas take time and some of them can take years to get in place. So don't sit on your passive income idea, go for it and get that income stream rolling.