Most people choose their first bank without much thought. Whether it is the bank your parents use, the one that is closest to your school, or just the one that has the best commercials, there usually isn't much thought in your first banking decision.
It's your second bank where you usually do your research and find one that meets your needs. This list of top rated national banks should help in that search.
Top 10 National Banks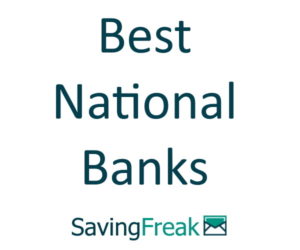 We broke these top ten national banks down into what bank we think meets your needs best. There is typically more than one bank that is a great choice so we did more in-depth articles about choices for each category.
CIT Bank (Best for Savings Accounts)
High-Interest online savings account changed the way we do banking. CIT Bank has been a consistent performer for its high-interest savings and CD accounts. The 11-Month CD account allows you to get great interest and you are only required to leave funds in the account for one week.
Most Flexible Options

High interest rates
Discover (Best for Checking Accounts)
Most people only consider Discover for their branded credit cards. However, they are also a well-respected banking option inside the industry.
Currently, they do not offer interest on their checking, but they do give you 1% cashback on your purchases up to $3,000 a month.
Rewards – 1% back

ATM Network – 60,000
Capital One (Best for Money Market Accounts)
Capital One bought out ING from your U.S. holding and took over as one of the top online banks. The interest rates on their top-rated money market accounts are consistently competitive.
Fees – None

Online Bill Pay – Yes

ATM Network – 39,000
BBVA (Best for CDs)
You may not have heard about BBVA, but they have built a healthy online customer base. They are always near the top of the best high-interest CD accounts.
Fees – None for CDs

Minimum Deposit – $500
Alliant (Best National Credit Union)
Credit unions are great for anyone looking for a more personal approach to banking. Alliant has maintained a great reputation as one of the top credit unions and has great interest rates on their savings accounts.
Fees – None

Online Bill Pay – Yes

ATM Network – 80,000+
USAA (Best for Military)
USAA is a top provider for anyone in the military and their family members. They offer zero fees across all banking products and their loans come with the lowest fees you can find. They are also a top provider of VA Loans.
Fees – None

Online Bill Pay – Yes

ATM Network – Reimburses $15 in ATM fees each month
Ally (Best Bank Brokerage Combo)
Ally has been expanding across the banking industry. They also purchased Trade King and converted it to the brand Ally Invest, Making them the top bank that can also offer a full-service brokerage account.
J.G. Wentworth (Best for Mortgages)
J.G. Wentworth is a massive bank with many different departments. They have made mortgage applications much easier and are willing to work with people who have less than perfect credit.
Fully digital applications

Works specifically with mortgages

VA Loan approved
SOFI (Best for Personal Loans)
SOFI started as only offering personal and student loans. They have since expanded into many other financial services, but have maintained their name as a top online lender.
Easy loan process

Fully online application

Quick decisions
Bank of America (Best ATM Network)
Bank of America is a top name across the country in banking. What makes their network unique is that they more than 600 bricks and mortar locations compare to other ATM network providers. While their ATM network may seem smaller than some of the others on this list, it is the only network that large that is wholely owned by the bank.
Fees – None

Online Bill Pay – Yes

ATMs -16,000
Other Bank Review
At SavingFreak.com we strive to give you as many options as possible to meet your banking needs. These reviews are mostly national but could include some that fall into the regional category.
Other banks you may want to consider include:
Choosing a Bank
Choosing a bank for your personal needs is going to require that you think of many different questions. One of the worst feelings is finally getting an account set up and then realizing that the bank isn't working for you.
These are a few of the questions you should ask:
Can I get to an ATM?
Most banks have pretty large ATM networks, but they don't always extend everywhere. One of the reasons I use USAA is that I can accrue up to $15 in fees a month and they pay me back for it.
If you are not in the military or directly related to someone who was, this isn't an option. So make sure you have easy access to free ATMs or you will be switching banks after one month of nasty fees.
Are Interest Rates Important?
Many people end up keeping their checking and savings accounts at different banks to take advantage of better interest rates.
I even know a few people that keep multiple savings accounts at different banks so they can transfer their money to the bank with the best interest rate each month.
What are the fees?
Fees can eat away at any bank balance. Make sure you are in a "fee-free" environment and save yourself a load of cash.
If you are a person that tends to overdraft, try to find an account that will automatically tap into a savings account and keep a few hundred dollars there just to prevent the overdraft fees.
National Bank FAQs
What makes a bank a "national" bank?
For this evaluation of banks, we only included bricks and mortar options that service at least 20 states. Most online banks are nationwide so that was not a consideration.
Some bricks and mortar banks we included, like BBVA, also have a heavy online presence and are available nationwide through the online portion of their services.
Are national banks better than regional banks?
Smaller banks tend to have better service, but lack in the number of branches. So the advantage of national banks is going to be the availability of in-person service.
If you aren't worried about nationwide access, then a smaller bank will probably be a good choice. Those who travel or want the highest interest rates will want a national bank.
Which is Better Bricks and Mortar vs Online?
Bricks and mortar banks tend to have a lot of bank bonuses for joining and they offer the ability to meet in person.
Online banks usually win with their interest rates. Many times offering up to 20x the national average. Since they don't have branches, they tend to tap into a large network of ATMs and pay the fees for their clients.
Is my money safer in a big bank?
As long as a ban is a part of the FDIC (Federal Deposit Insurance Corporation) they will be as safe as any other bank. The FDIC provides insurance up to $250,000 per type of account (savings, checking, CD, etc.).
If you are looking at going with a credit union, then make sure they are part of the NCUA (National Credit Union Administration). They have the same insurance coverage.
What are the top 10 banks in the USA?
The federal reserve releases data on banks regularly. From the standpoint of most assets, these are the top ten banks in the United States:
Chase Bank

Bank of America

Citibank

U.S. Bank

PNC Bank

Capital One

TD Bank

BB&T

SunTrust
Methodology
I spent seven hours doing research on the most popular and well-known banks, both online and bricks and mortar. Before compiling our top 10 list, I read over 200 user reviews, consulted with individuals who used these banks and took into account my personal experiences. This research came together to create the list above.