Surveys sites are an excellent way to earn some side income, but you should be looking for online surveys that pay cash.
While gift cards are great, the most legit survey sites tend to give you a cash-out option that includes money into Paypal or check.
Best Survey Sites that Pay Cash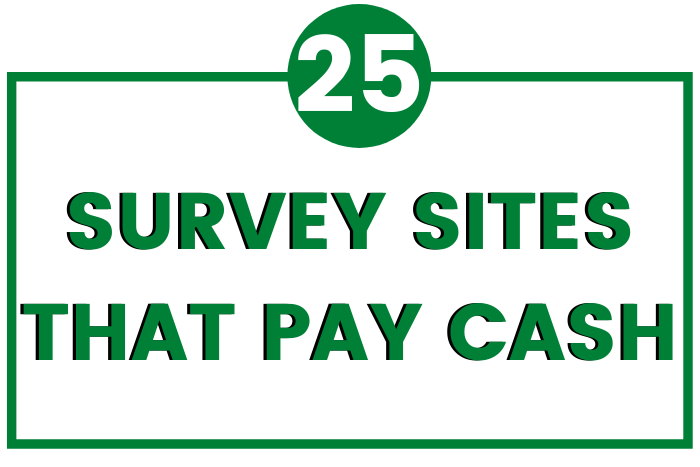 Survey Junkie
One of the largest and longest-running of the surveys that pay cash, SurveyJunkie is well respected for market research. After you sign up, you will take a quick demographic questionnaire, and then they will notify you by email of available surveys.
Summary
Swagbucks
Swagbucks is a broad get paid to site that pays cash for surveys as well as several other online tasks. The other tasks you can get paid for include watching videos, reading emails, searching the internet, and several others.
Summary
Inbox Dollars
Inbox Dollars started as a site that only paid you to receive emails. Like Swagbucks, they have expanded into a variety of areas including paying you cash to take surveys.
LifePoints
LifePoints has one of the largest groups of users for market research. When you sign up for LifePoints they will do a short survey to match you with surveys that you can qualify for.
This saves time from beginning surveys and then not getting paid because you do not qualify.
Summary
MyPoints
MyPoints is another site that started with getting paid to read emails and expanded into multiple ways to earn. Once you sign up for a MyPoints account, you can choose from multiple ways to earn cash, including surveys.
Summary
YouGov
YouGov is one of the most well-respected sites on this list. They work with companies and governments to collect data and produce some of the most read market research reports each year.
Summary
Branded Surveys
Branded Surveys is part of the major market research firm Branded Research Inc. Not only does Branded have its own clients, but it is also frequently contracted by other market research firms, giving them plenty of cash paying surveys for you to take.
Summary
FusionCash
Fusion Cash is another broad get paid to site that includes surveys paid to cash as an earning option. They have a very generous referral program where you get paid cash for any surveys and offers your referrals complete forever.
Summary
Unique Rewards
UniqueRewards pays cash for taking surveys, reading emails, and a host of other options to earn. Currently they only take users from the United States, Canad, and UK.
Summary
Opinion Outpost
OpinionOutpost is one of the fastest paying survey sites. Your cash is delivered to your preferred pay out in less than 24 hours and frequently in less than an hour.
Summary
Toluna
Toluna Surveys is known for having one of the wider varieties of surveys that pay cash available. While they offer short surveys like all the sites, they also offer a few longer form surveys that pay more cash than the others.
Summary
Tellwut
Tellwut differs from the other sites on this list in that they pay to crowdsource information instead of as a direct market research company. While they still pay cash for a completed survey, this difference frequently gives them more surveys for you to take.
Summary
Pinecone Research
Pinecone Research was the first easy to access paid survey service. They were sending out surveys before most people were online.
Now, when you sign up for Pinecone Research, they will send you regular surveys as well as products to review from time to time.
Summary
Panda Research
Panda Research has a wide variety of surveys that pay money. They have a great referral program that pays you 10% of the cash that your referrals earn.
Summary
iSurvey World
iSurveyWorld is one of the better-paying survey sites, and it only pays out to cash. They are also good at screening their surveys, only delivering opportunities where you can complete the survey and get paid.
Summary
Survey Savvy
SurveySavvy offers you two ways to earn. The first is your traditional get paid to take surveys method, but they also allow you to download their app, which pays for letting them record how you use data.
The app allows them to do behavioral research and qualifies you for $5 per month, per device on top of the cash you get for surveys.
Summary
Vindale Research
Vindale Research is a major market research company. Their number of surveys is more limited than some other sites, but they are one of the best paying if you are looking to get paid cash for surveys.
Summary:
IboxPays
InboxPays is a competitor with the other GPT programs on this list. Along with getting paid cash for surveys, you can earn with shopping, watching, ads and several other offers.
Summary
InboxPounds
InboxPounds is the sister site of Inbox Dollars designed for those living in the UK. They are owned by the same parent company and work almost identically, except for paying out in pounds instead of dollars.
Summary
E-Poll
If television is a major part of your entertainment, then E-Poll is going to go well for you. The biggest advantage to this program is that they discount your cash out the more points you redeem at one time.
Summary
Poll Pass
Poll Pass takes a slightly different approach to paid surveys. Instead of filling out questions online, you can chat with bots online to earn some cash. They also sport a low cash out at only $5
Summary
Paid Viewpoint
PaidViewpoint is the information gathering part of Your Target Market inc. If privacy is a concern, they do not require your name or address on sign up. PaidViewpoint is only interested in your demographic data.
Summary
Ipsos iSay
Ipsos iSay is the online face of the long running market research company Ipsos. Having been around since 1975, make Ipsos a reliable option for getting paid to take surveys.
Summary
Summary
American Consumer Opinion Panel
American Consumer Opinion Panel (ACOP) is a trusted site that allows people age 14 and older to participate. They focus on brand awareness, making them one of the top paid survey sites for teenagers.
Summary
UniqPaid
UniqPaid competes with the likes of Swagbucks and InboxDollars as a GPT site. The one thing that makes them unique is that they have a three-tier referral program. That means you get paid on your referral's, referral's, referrals.
Summary
Tips on Taking Surveys for Cash
When you try to get paid to take surveys for the first time, it can get overwhelming. Too many options and the moving parts of being in a new program can make getting up to speed difficult.
These are our top tips for getting the most out of online surveys that pay cash.
Get a Separate Email Account
If you are like me, your email account feels like it is under assault all the time. Many of these programs will send you regular emails and make that account feel even more crowded.
I have known many people to see the extra emails and start deleting them. Getting a separate email address just for surveys can help you separate your normal email load and the new emails that the paid survey apps will be sending you.
Don't Go Overboard
There are 25 survey sites that pay cash on this list. Signing up for all 25 or even half of them will feel like drinking from a fire hose.
Start with two or three and get used to those, then add more if you feel like you can handle it.
Find Programs that Work for You
Whether it's straight surveys or a mixture of getting paid to programs, keep trying different options until you get a group that works for you. Most people can handle three to five different programs once they figure out which ones they like the best.
Fill Out All Your Information
These companies are all looking to pay you for your opinion. The highest paying surveys are the ones where someone is looking for specific demographic markers.
So if you are a stay-at-home mom and you don't let them know that, they will not pay you the extra money when a marketer only wants to know the opinions of stay-at-home moms.
Also, if you fill out the demographic survey generically, you will spend more time starting surveys you don't qualify for and then getting booted and not paid because you don't meet the criteria.
Final Thoughts on Taking Surveys that Pay Cash
Surveys that pay cash are an excellent source of side income and something you can do when you have free time.
This is not going to replace your full-time job, but if you want to make extra money for boosting your emergency fund, paying off debt a little faster, or boosting your budget, then getting paid to take surveys can be a good option.